Hugo's in WeHo was my favorite brunch place when I was still living in LA proper - or at least, they have my favorite brunch dish.
Since moving to Pasadena, I went on a Hugo's hiatus - especially since they were renovating and since the Pinkberry on my way there is being stingy with their fruits!

I recently went back though, for the first time after the renovation. I was surprised when I walked in. The decor now is much 'cleaner' and minimal compared to before. I preferred the cozier, homier feel of the old Hugo's though. Sigh ... why is everything in LA changing to this wide space, minimal decor look? The kitchen is now closed off though, reducing the noise from plates clanking greatly. That's one good thing from the renovation.

The place was not as busy as I remembered it- before I would have to wait 10-15 minutes for a table during lunch hour on a Saturday. Today we got a table immediately. It wasn't empty, but there was no line out the door like there used to be. Maybe the new decor? Maybe because they were closed for a while, a lot of people have not made it back?

At any rate, the food there is same as always - great tasting and healthy.
Hugo's serves you piping hot whole wheat ciabatta bread that is great with or without butter. (One time they served it cold, but we sent it back and got the piping hot bread).

Before, the Tofu Scramble used to be my favorite dish. Organic tofu scramble with sweet potato, green onion, tomato, spinach, garlic and mushrooms with ginger-soy sauce. The tofu is firm, and the ginger-soy sauce is really good! (There's no egg in here, even though it says 'scramble'). The spinach and tofu with the sauce is just a great combo. My only pet peeve about this dish is that there's too much sweet potato for my taste, but I know some people who looove sweet potato and didn't think there was enough ...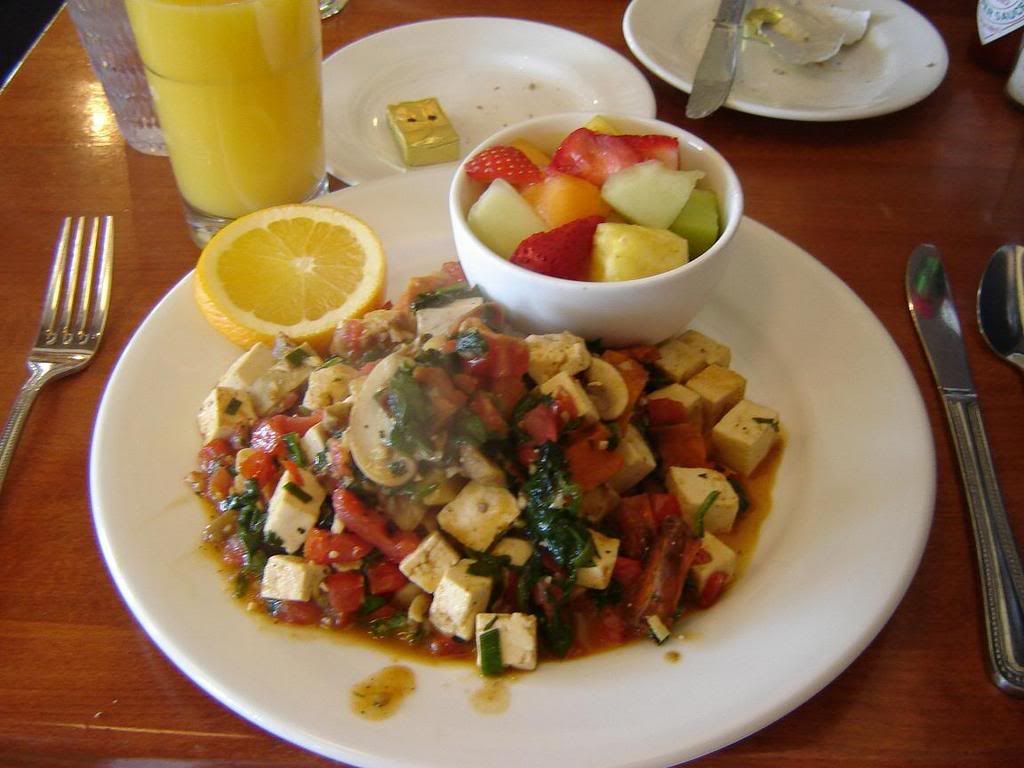 A great dish, and like I said, it used to be my favorite and I'd get it every week. Until one day I became adventurous and ordered the Breakfast Salad! Ever since then, this is my favorite!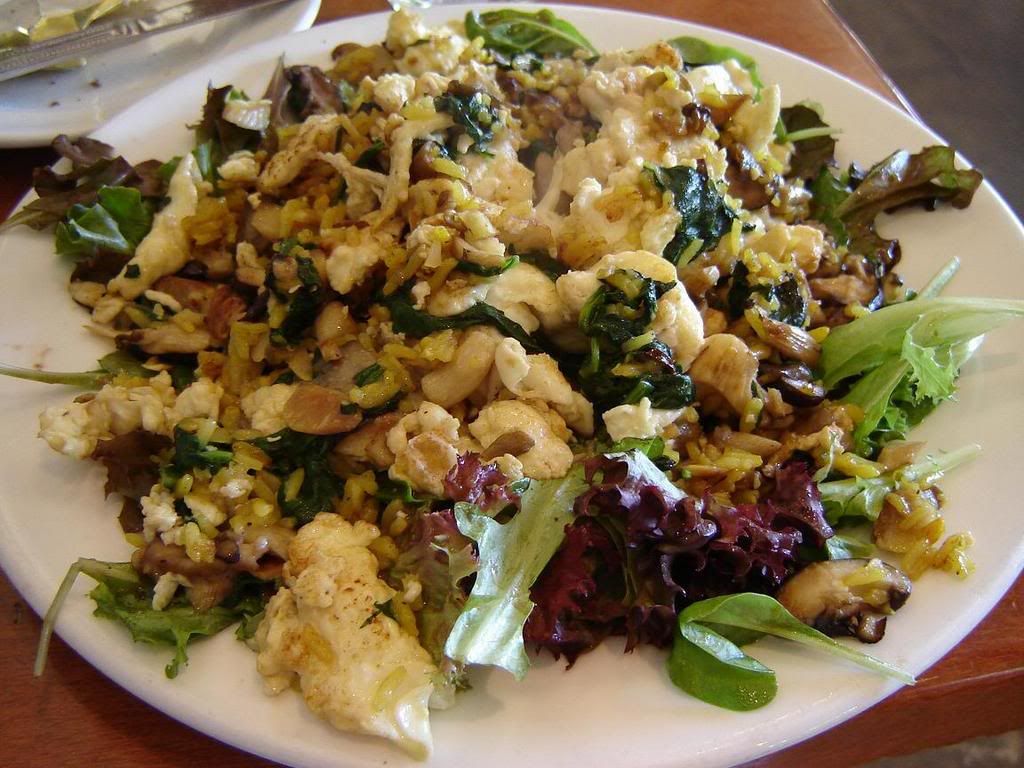 Mixed greens topped with: turmeric rice scrambled with egg whites, almonds, spinach, wild mushrooms, ginger, garlic, and soy sauce. Ahh ... the ultimate salad for me. I would have never imagined making a salad like this, and were it not for Hugo's I would have totally missed out. Maybe it is partly the Asian taste of the dish that makes me like it so much? Did I mention they're organic? Totally guilt-free :P

We didn't get desserts this time around, but the desserts at Hugo's tend to be very decadent (like bread puddings, pineapple upside down cakes, etc). Sinful? But they're organic? That's a notch down on the sin level, right? Right?

Also, I should mention they have a great selection of loose leaf tea.

Hugo's
8401 Santa Monica Blvd
West Hollywood, CA 90069
(323) 654-3993
http://hugosrestaurant.com/