These days what i had considered "mall food" has been taken to the next level, with the likes of Breadbar in Century City Mall and others. Among these, South Coast Plaza probably has unparalleled food options in Southern California, housing some of the most highly regarded restaurants in Orange County. Being LA-based, I haven't explored OC much, so when an invite to a blogger event at South Coast Plaza came along, I took this opportunity to get to know the South Coast Plaza restaurants.

Their PR person had apparently organized quite a night for all of us bloggers and writers.


The first day of our visit started out at Hamamori, a chic sushi restaurant on the 3rd floor of the West Wing.
We were greeted by James Hamamori behind the sushi bar, the owner/chef who also own Wasa in Irvine and Newport Beach.

We started with seared albacore with crispy fried onions, vinegar soy sauce


Next is a duo of vegetable appetizers: Shiitake Fries with creme fraiche, and Asparagus Tempura with Japanese rice crackers.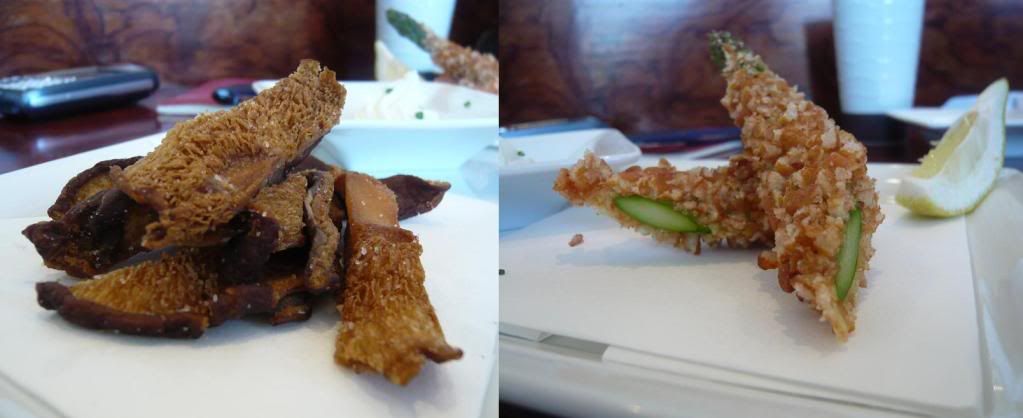 A series of special nigiris followed suit. The first two became the favorite of most of us. They are Hokkaido scallop with Himalayan pink salt, shiso, lemon, and Osetra Caviar, and Hamachi with Himalayan pink salt, lemon, and Japanese chili paste.


They were both very fresh and the seasoning and garnish was not overpowering but quite enhanced the flavor of the fish.

The last of the nigiri was Freshwater Eel with Foie Gras, finished with orange zest.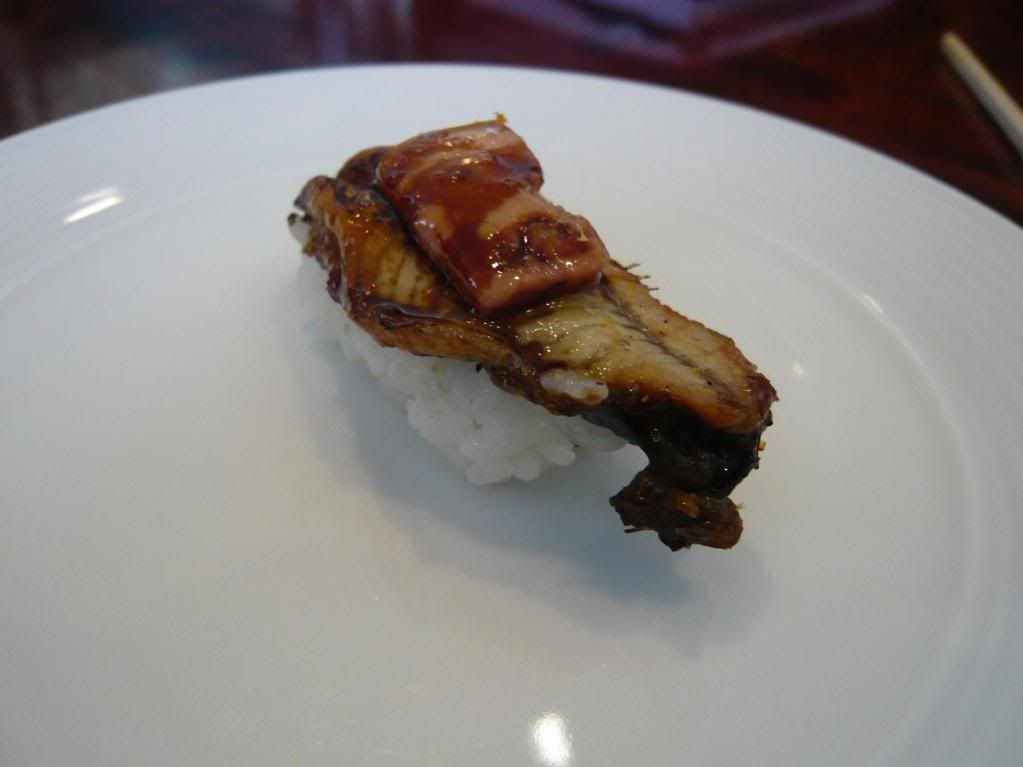 May I remind you guys at this point that I've been out of town for a while and have not had foie gras for ... oh, I don't know, a loong time. Anyway, I'm justifying why this dish excited me so much and I mindlessly ate my piece without taking a photo! Luckily Pleasure Palate let me snap a photo of hers. The foie gras just melted in my mouth and added this delicious creaminess on top of the sweet eel. So good.

The next dish was a fun hands-on experience of cooking Oregon Kobe shortrib on a hot lava rock from Mt Fuji!


The lava rock was super hot and cooked the thin short rib slices within seconds.
The tender meat slices were served with three types of sauces: steak sauce, apple sesame, and sea salt with chili pepper.


Hamamori
3333 Bear St, Level 3
Costa Mesa, CA 92626
(714) 850-0880



After our starter meal, we continued on with an interesting tasting at Michael Chiarello's store, Napa Style.


Here we were divided into two groups that started with different tastings. My group started with the salt tasting.

These are salts that chef Chiarello himself likes to use in his cooking like the popular Gray Salt, Truffle Salt, and even Jurassic Salt - possibly the oldest salt there is, found covered under volcanic ash in Utah.


Next we move on to the olive oil tasting. We had a couple of very interesting olive oil here.
One was an olive oil that somehow had the fragrance of banana ... somehow. A bit strange.
We also tried some Blood Orange Olive Oil - had a nice zesty fragrance and would probably be very good tossed with some salad. We got a goodie bag after and I received the Meyer Lemon olive oil - still yet to try it.

Our last tasting was the wines from Chiarello's vineyard.

Chef Chiarello named his five wines after his children and his wife. These are the wines we tried:

1.

Giana

($39), a 2005 Zinfandel named after his youngest daughter. This had a spicy nose and taste, though the aftertaste is surprisingly short considering how strong the wine tasted. Quite a nice wine and pairs nicely with food.
2.

Felicia

($49), 2007 Old Vine Zinfandel named after his 2nd daughter. These vines are from 98-year old root stocks that are all farmed dry. One of my favorites out of the tasting, full boodied with a nice fruity taste.
3.

Roux

($45), 2006 Old Vine Petite Syrah. This is a smoother and more balanced wine that the previous. It had a subtler nose and a smoother fruity taste.
4.

Bambino

($49), 2007 Cabernet named after his little boy (Aidan). A sweet wine that has a bit of spicyness to it. I liked this one quite a bit too.
5.

Eileen

($69 but a $55 special is currently running), a 2006 Cabernet named after his wife. This wine has a sweet nose and is smooth and full bodied.
NapaStyle
3333 Bear St, Level 2
Disclosure: In the spirit of the FTC guidelines, although SCP is not paying us bloggers to blog about this event, they are incentivizing us for blogging early by offering a $100 SCP gift card to those who blog within 72 hours. Will I make it? I have 2 more posts to go and 24 hours, so we'll see ..