It doesn't matter who first invented noodles/pasta anymore. Nowadays every culture has their own specialty noodle dish(es). The Korean Gook So is said to be the equivalent of pho to Vietnamese, but then pho is just the equivalent of some other soup-based noodle dish somewhere else. But like I said, it doesn't really matter.

Ma Dang Gook So is one of those small, homey restaurants in Korea town, and it specializes in Korean noodle dishes, one of them being (naturally) the gook so. This item is identified simply as "handmade noodles" in the menu.

Being weak to spice, I avoided the kim chee gook so and opted for the anchovy instead. The noodles were bathed in beef broth that has the taste and flavor of anchovies. Two slices of potatoes are hidden inside, and most believe these potatoes are the secret ingredient to their broth's subtle taste and body.

Halfway through the bowl I was completely bloated as I couldn't stop drinking the soup. The one bad thing about the dish is that I do occasionally miss my protein (there was no actual anchovy inside). To actually get real meat, one could opt for the chicken gook so.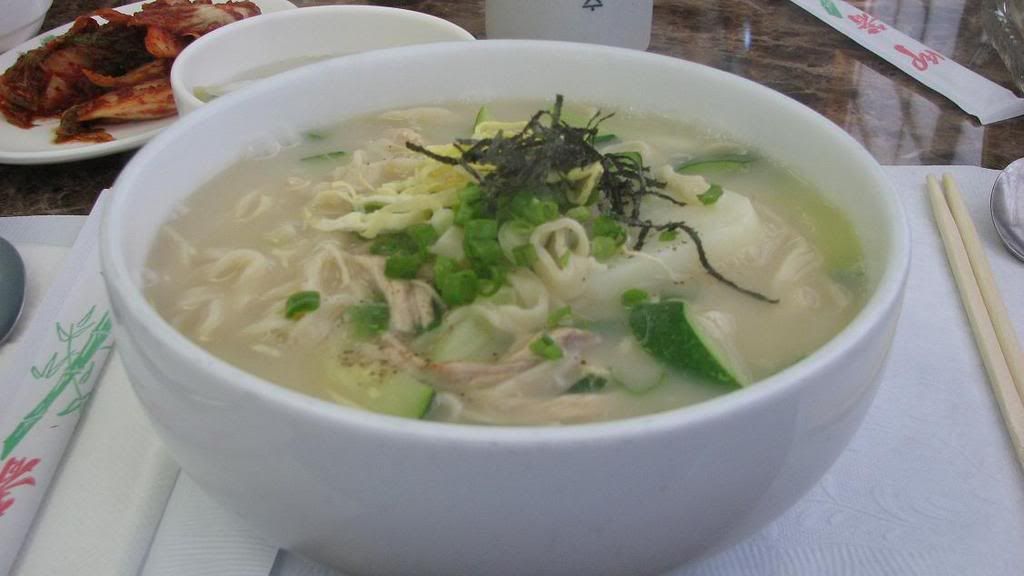 The chicken gook so uses instead chicken broth, but it still hides the potato slices and hence still has the same body as the beef broth. The chicken shreds are definitely a plus, but I still prefer the beef broth better myself (I'm a red meat eater!).

Ma Dang Gook So gets steady business early in the morning. It does seem like a good meal to have after a late night. Or a hangover.

Ma Dang Gook So
869 S Western Ave Ste 1
Los Angeles, CA 90005
(213) 487-6008