Our no-longer-Teenage Glutster is all grown up now! But no way will we foodblogger friends let him spend his 21st birthday in a haze and hungover from kegs, Jagerbombs, and 2-buck-chucks.
No, we're going to celebrate in style!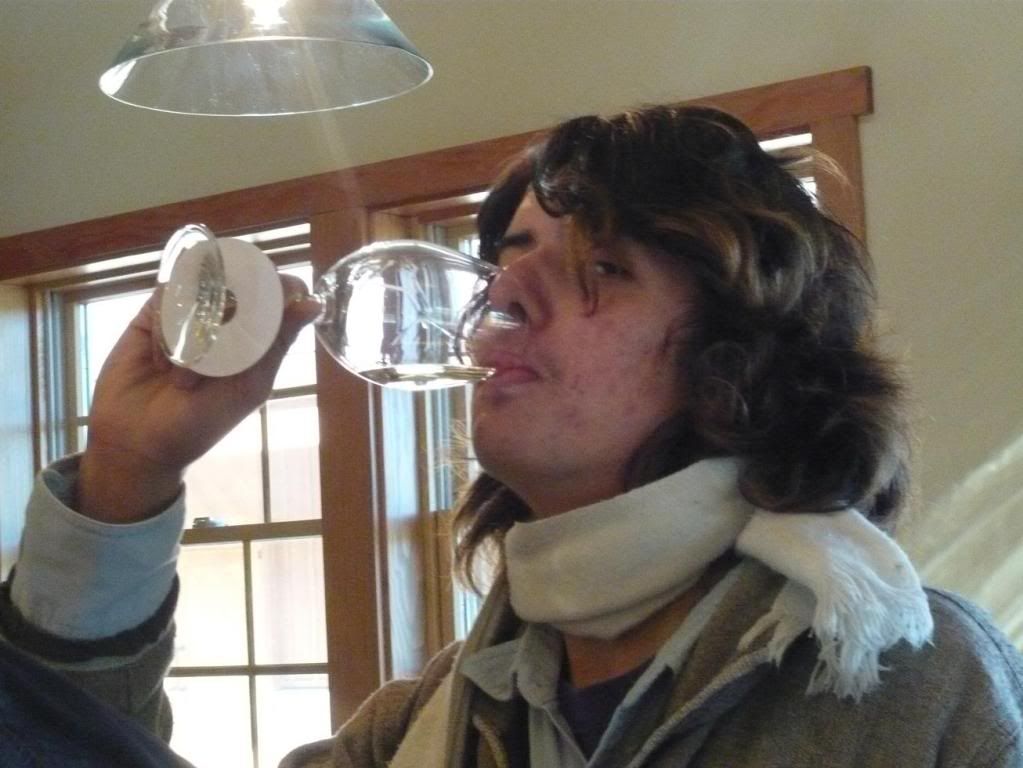 Since Glutster had just achieved the legal age of drinking, he obviously had a lot to catch up on, so Street Gourmet LA arranged for a day of wine tasting and more in the beautiful Santa Ynez Valley.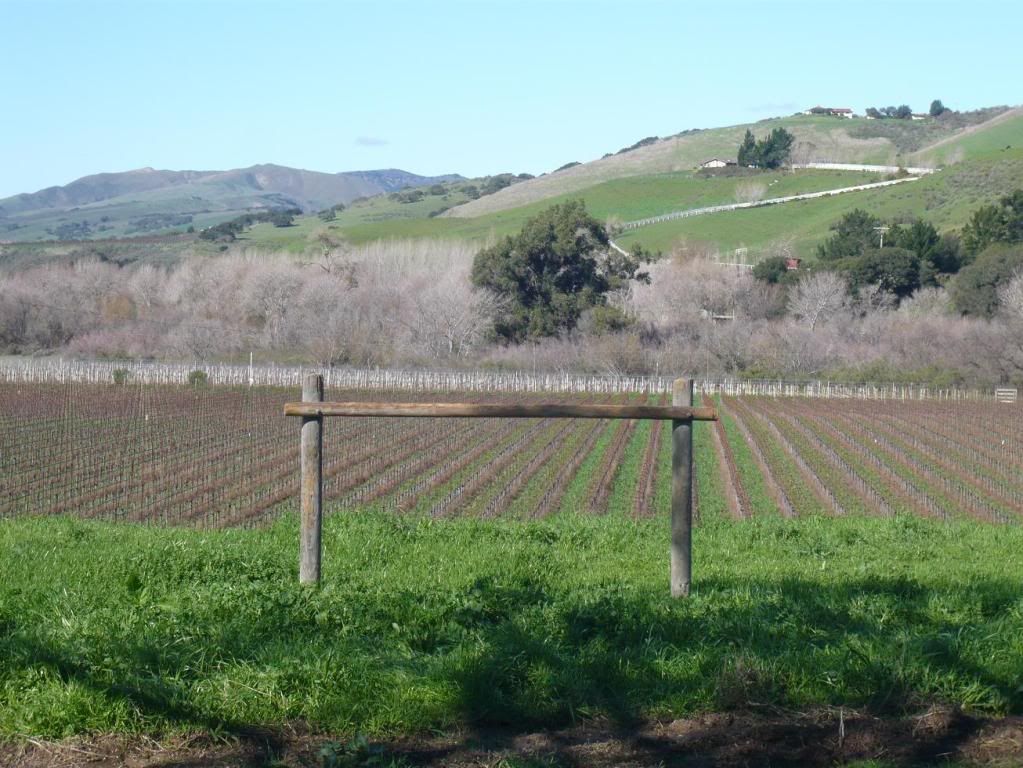 Six wineries, to be exact. Like I said, he needed to catch up. With a bit of financial help from Foodbuzz' 24, 24, 24 program, we're off to wine and dine him!

Our caravan, spearheaded by Street Gourmet LA, consisted of e*starLA, FoodGPS, and the siblings from Cemitas y Clayudas Pal Cabron in Huntington Park.

Our first stop is Foxen Vineyard in Santa Maria.
Besides being featured in the movie 'Sideways', Foxen Vineyard is a well-established (since 1985) winery boasting solar powered winery and tasting room and 90+ point wines from Wine Enthusiast, Wine Spectator, and Robert Parker.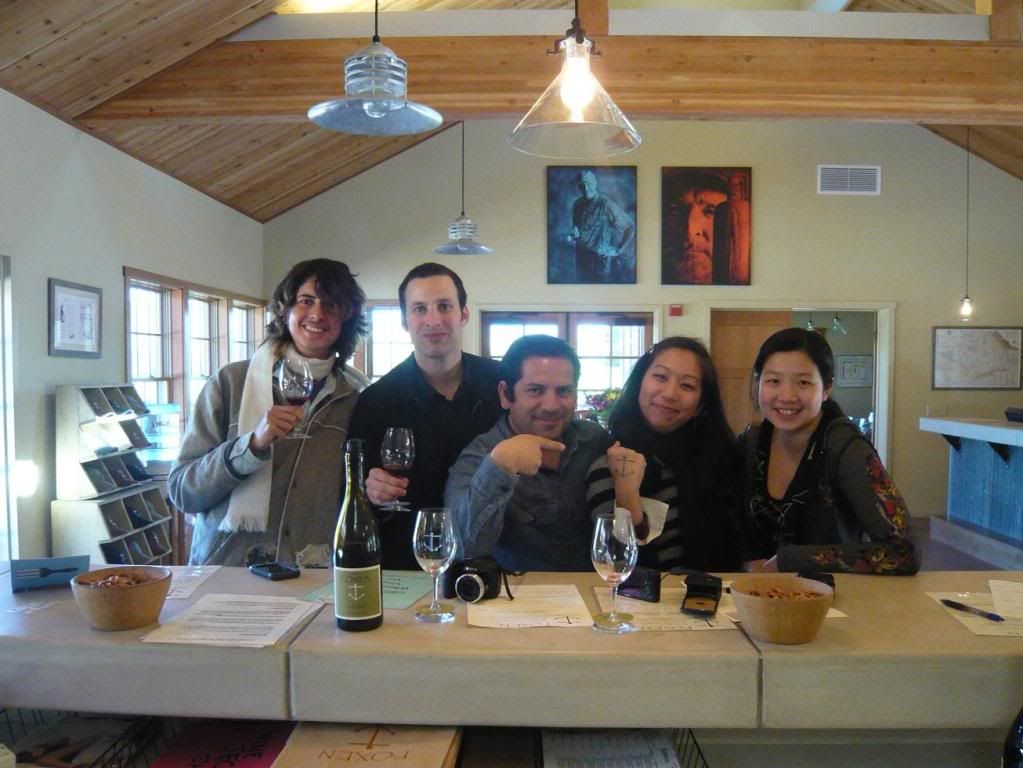 Our group is ready to go!

Foxen recently built a new tasting facility, but probably because the old one was featured in the movie Sideways, they kept both open. Foxen offers a tasting of five wines for $10 or a tasting of 3 wines at each location (6 total) for $12.
Here are the five wines we tasted:
2007 Chenin Blanc - Ernesto Wickenden Vineyard
. A nice and light white.
2008 Chardonnay - Tinaquaic Vineyard
. This is Foxen-owned vineyard.
2008 Pinot Noir - Santa Maria Valley
2007 Cuvee Jean Marie.
A blend of Grenache, Syrah,and Mourvedre. This a fruity and flavorful wine,loved it.
2006 Syrah- Tinaquaid Vineyard
. Much spicier than the previous red, has a fuller body but not as flavorful.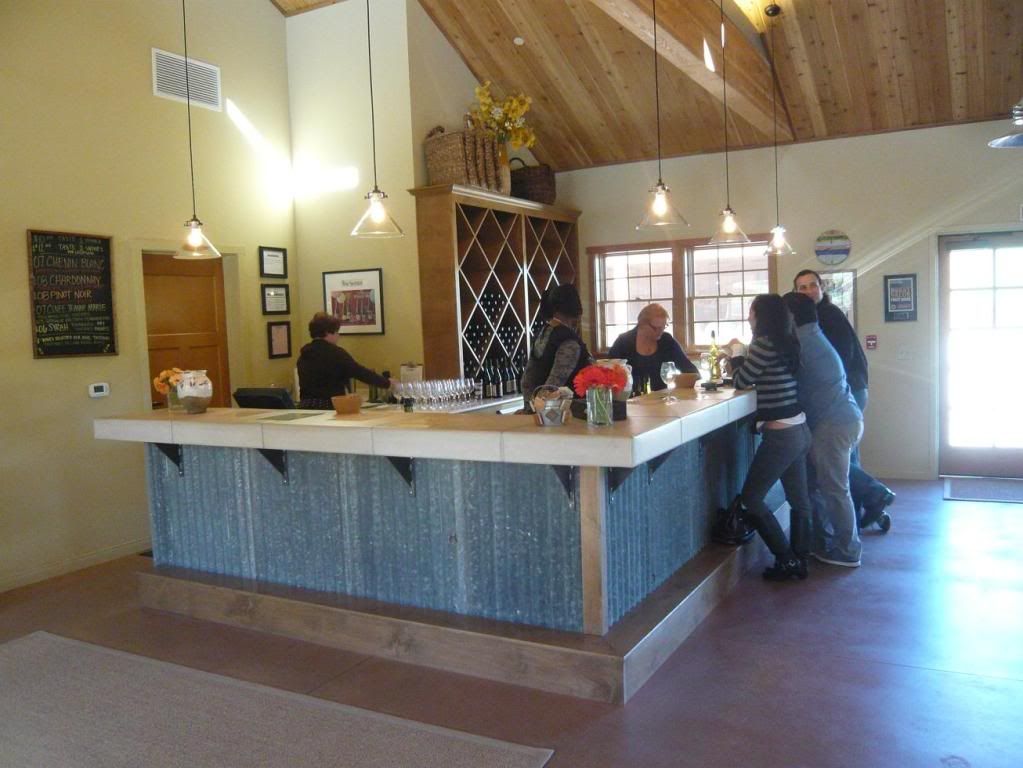 7600 Foxen Canyon Road (new tasting facility)
Santa Maria, CA 93454
Phone: (805) 937-4251
~~~~~~~~~~~~~~~~~~~

Next we went to Alma Rosa winery in Buelton, passing through the quaint Danish town of Solvang on the way. Alma Rosa has a beautiful setting and a lovely outdoor tasting area. I can really hang out here all day.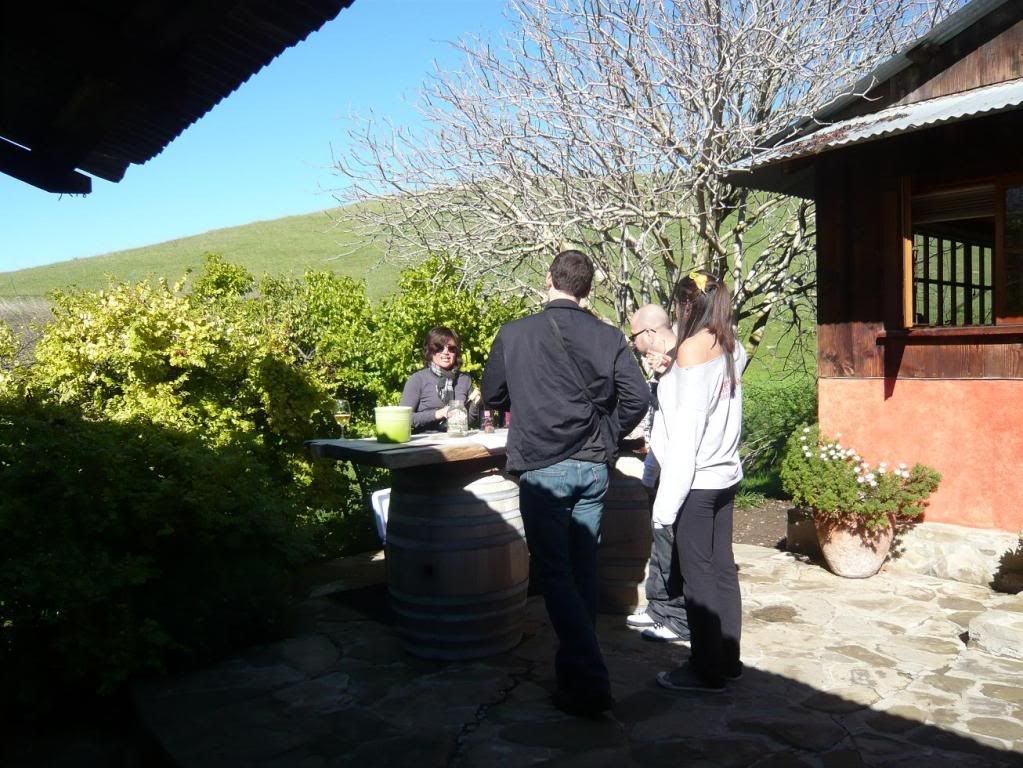 Alma Rosa offers a varietal flight of five wines for $10:
2008 Santa Barbara County Pinot Gris
- light and crisp.
2007 Sta Rita Hills Pinot Blanc
2008 Santa Barbara County Chardonnay
- sweeter and fruitier than the previous two whites.
2007 Sta. Rita Hills Pinot Noir
- an interesting Pinot, it was smooth with a little hint of pleasant bitterness.
2006 La Encentada Sta. Rita Hills Pinot Noir
Chris Burroughs from the Alma Rosa tasting room made a cameo in the movie Sideways (because they decided he was just so cool), so Javier took a celeb shot with him.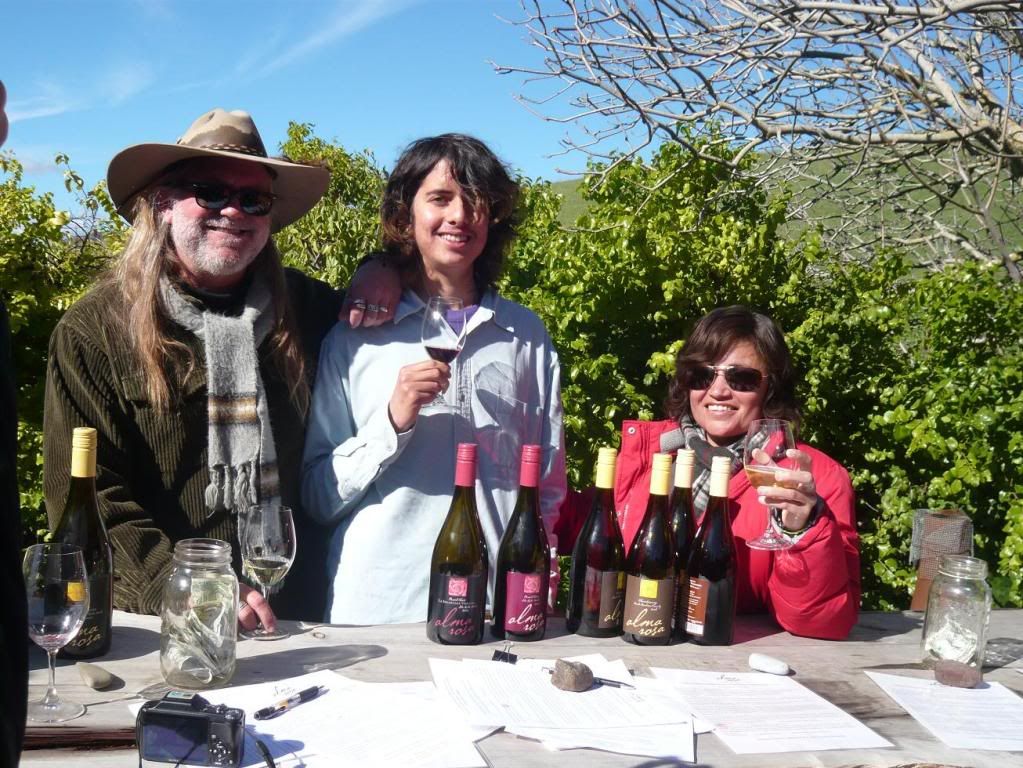 Buellton CA 93427
~~~~~~~~~~~~~


I was actually looking forward to visiting Artiste winery because they have the art studio where you can get creative while you're wine tasting. Unfortunately they were in the process of moving their tasting room to Los Olivos, so we weren't able to visit them. In the spirit of 24, 24, 24, though, since I had included them in my proposal, we decided to hold our own "Artiste tasting."
Street Gourmet LA brought 2 bottles of Artiste wines and accompanied by some amazing cemitas (courtesy of the Pal Cabron siblings), baklava, a wonderfully salty cheese from Chiapa, and
Kiss My Bundt
mini bundt cakes, we had a picnic lunch while taking in the lovely Santa Ynez air.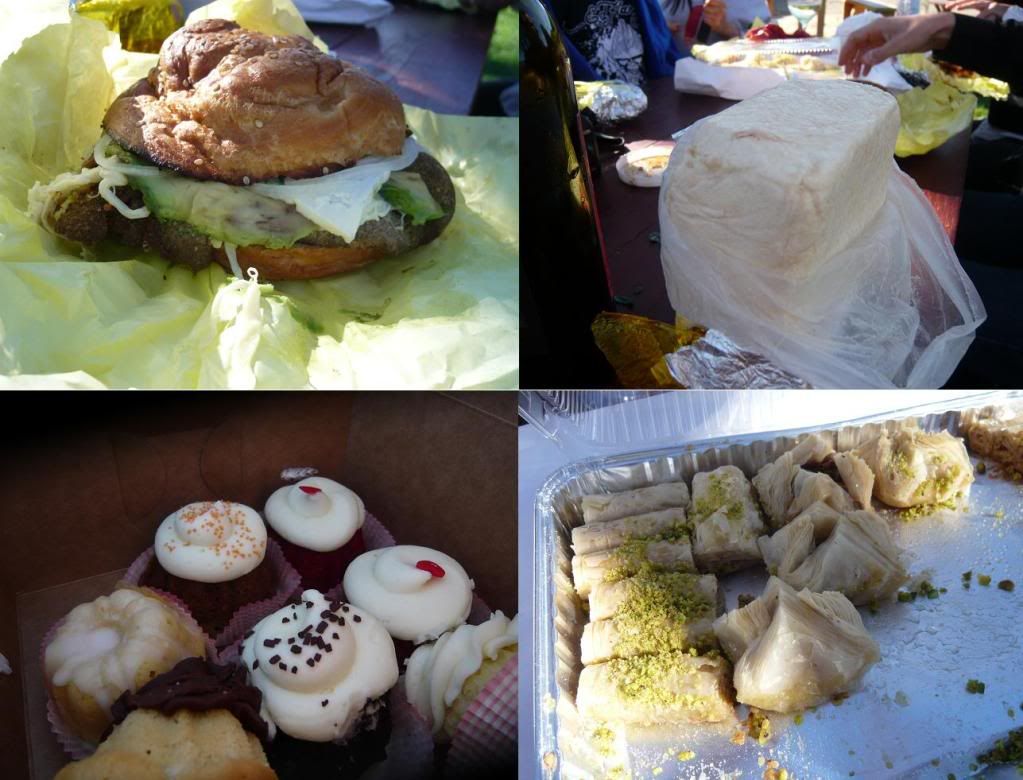 Many toasts and best wishes to our adult Glutster!
You can also see estarla there shuffling back and forth after eating some spicy Pal Cabron's housemade Chipotle! (More on the "Chipotle Shuffle" later ;P)
The labels of Artiste wines are hand chosen paintings representing the name of the wines. That afternoon we tasted Les Fleurs (a blend of about 5-6 whites) and Peaceful Alliance, both lovely wines. The Peaceful Alliance actually made a great pairing with the Chiapa cheese!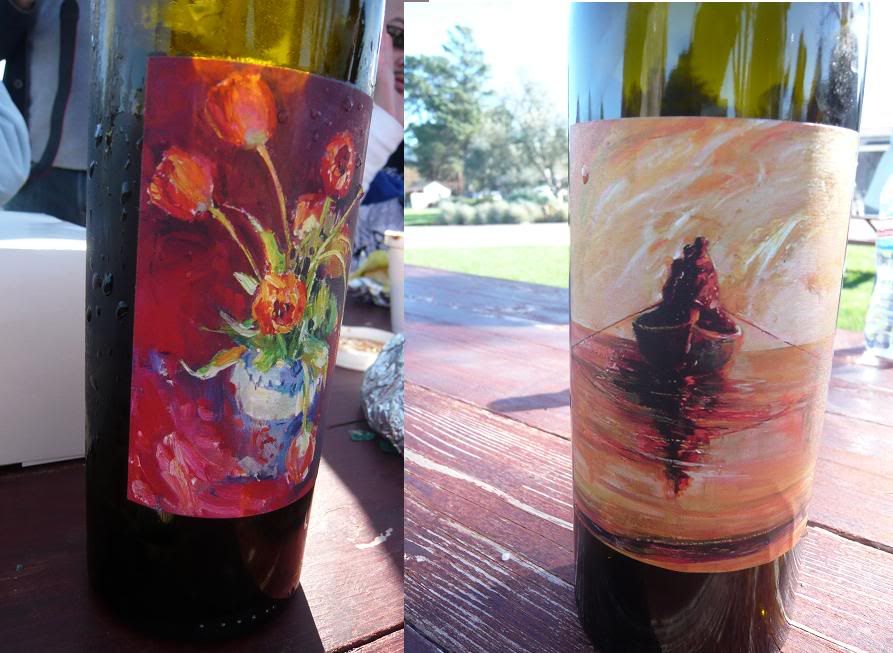 Moving to Los Olivos, location still undisclosed.
Phone (805) 686-2626

~~~~~~~~~~~~~~

Moving on to another Sideways-featured winery with Blackjack in Solvang, we took down their tasting of 10 (yes, TEN) wines ($12), which included the Maximus Syrah as featured in Sideways during the four-screen montage about 30 minutes into the movie.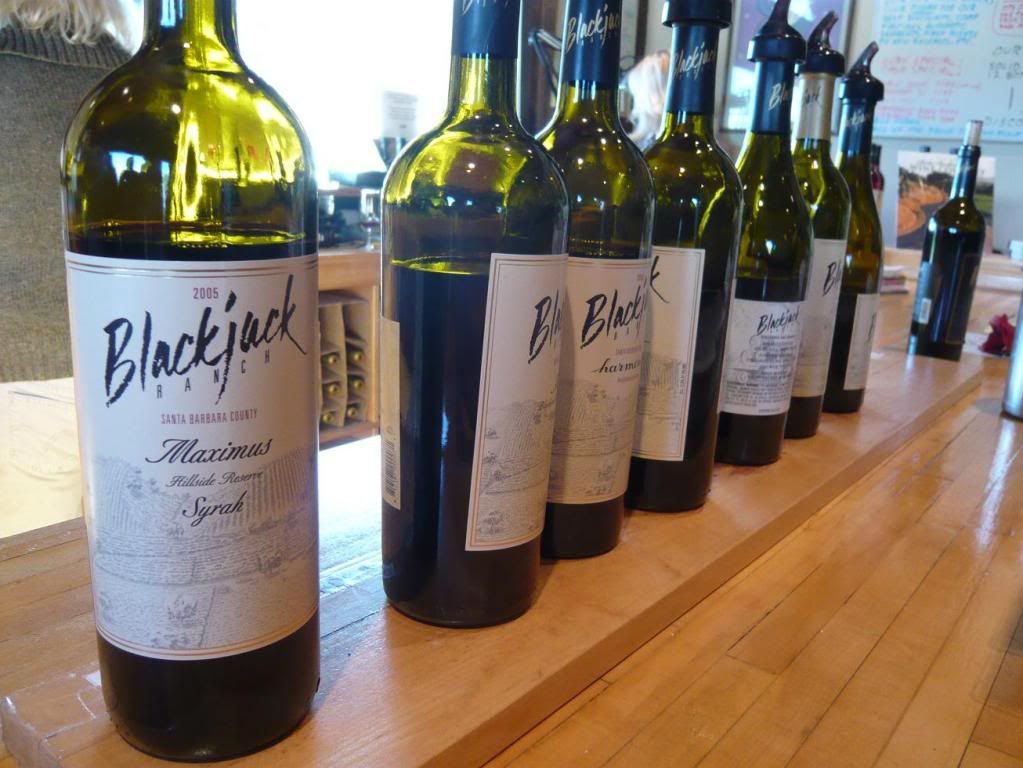 Besides labels of famous Bordeaux, the tasting room was also decorated with photos from the movie Sideways.
Our ten wines:
1.
Chardonnay Blackjack Ranch Vineyard Reserve 2007
- crisp and not too oaky.
2.
Chardonnay Wilkening Vineyard Reserve 2006
- in stark contrast to the previous, this chardonnay was very buttery.
3.
Chardonnay "Black Cap Reserve" 2005
- unfiltered white wine.
4.
Pinot Noir Alix de Vergy 2005 Special Selection Reserve
- a lot of smoke in the nose, but I don't find the wine particularly smooth.
5.
Allusion 205
(Cab Franc with an accent of Merlot)
6.
Double-Down Syrah 2005/2006
- fruity and smooth, this was one of my favorite from this tasting.
7.
Harmonie 2004 "Bordeaux-Blend"
8.
Harmonie 2002 "Bordeaux-Blend"
- this wine spent 2 years in the oak barrels and is quite a nice wine, full bodied and smooth. Another winner.
9.
Merlot Billy Goat Hill 2005
10.
Maximus Syrah 2005
- this is their "Sideways" wine and a good choice. Quite flavorful and had a big body.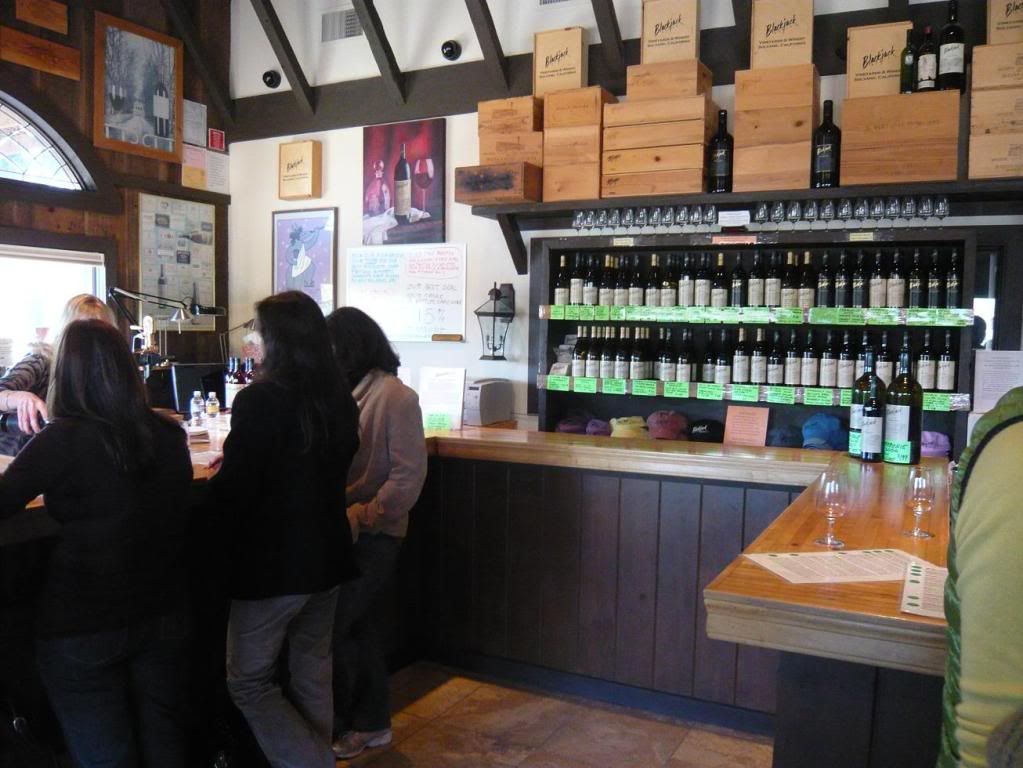 Blackjack Ranch
2205 Alamo Pintado Road
Solvang, CA
~~~~~~~~~~~~~~~~~

We proceeded to the charming town of Los Olivos and first stopped at the Scott Cellars tasting room. Hippie winemaker Peter Scott Fraser personally manned the tasting room along with wife Jennifer and his mother.
Choosing his own rows of grapes from nearby vineyards (with the exception of the Zinfandel, which was from Paso Robles), Scott knows the effects that different soils would have on the resulting wine. We got lucky that day since Scott Cellars was having a (free) tasting event. This proved to be one of the more solid all-around tastings of the day with consistently high quality wines.
My favorites are the following: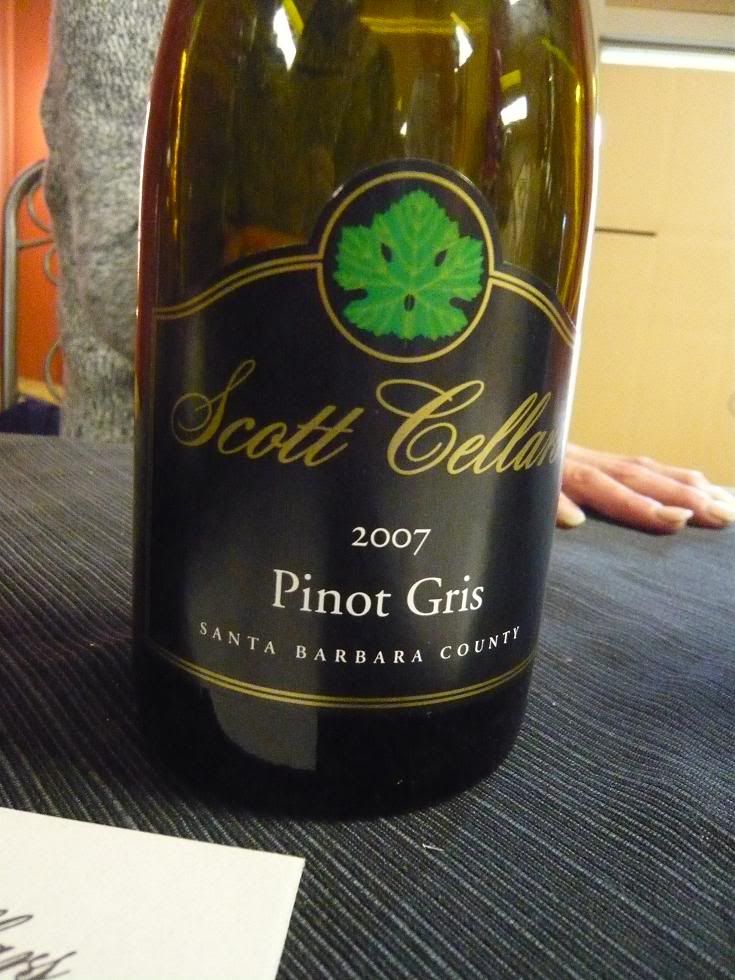 2006 Pinot Gris
2007 Pinot Gris
- This 100% stainless steel white is creamier wine than the year previous. This was probably my favorite.
2007 Pinot Noir
- a double gold-medal winner.
We also tried their first release of Sangiovese wine.
You may notice the leaf on Scott Cellars' wine labels. That is the leaf of the grape used in the wine. Each leaf has a different shape and that is how he distinguishes between them in the vineyard. A nice touch. If you buy enough of their wines, you can learn all the shapes too!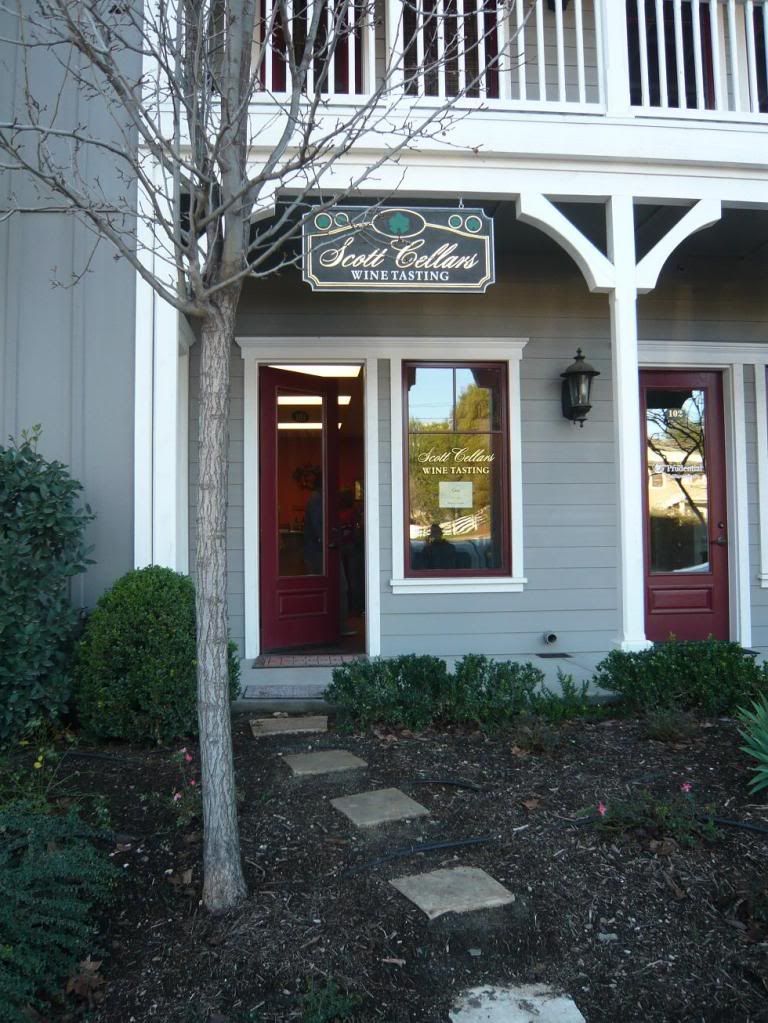 Scott Cellars
2933 San Marcos Avenue
#101
Los Olivos, CA 93441
~~~~~~~~~~~~~~

Our wine tasting day ended about 2 blocks away in Los Olivos at the Carhartt winery tasting room.
This tiny tasting room was already half full before we bombarded them with our group of nine. Winemaker and owner Mike Carhartt was pouring our wines while bantering with Street Gourmet LA.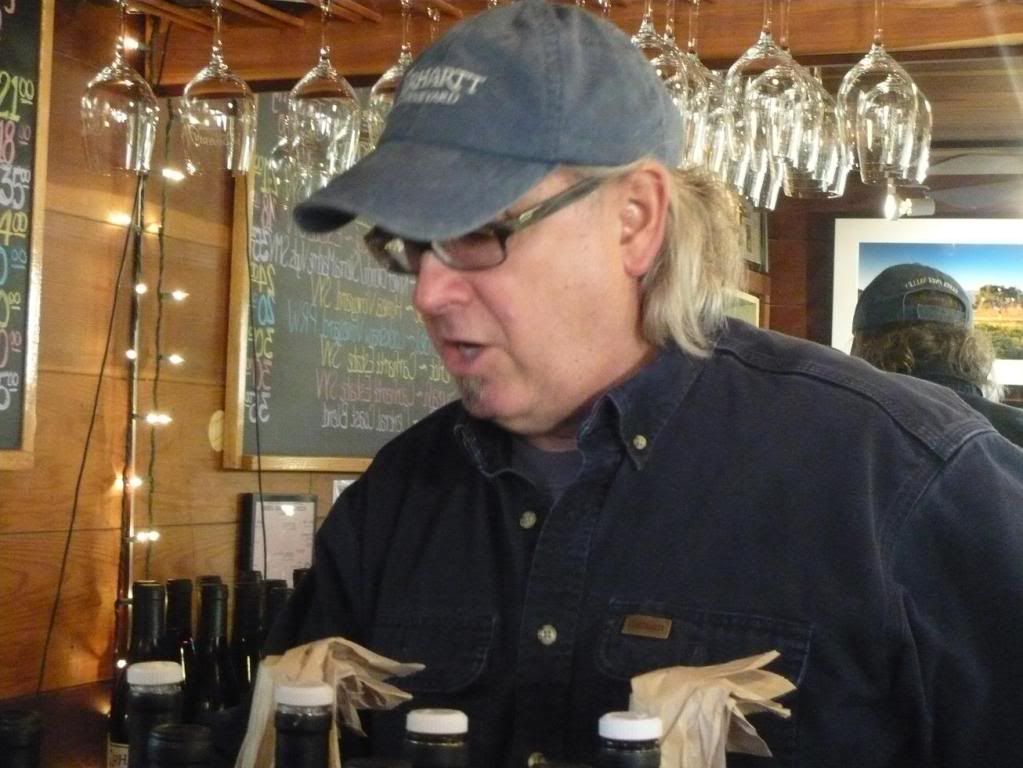 Our $10 tasting consisted of:
2008 Sauvignon Blanc
2008 Chase The Blues Away Rose (named for their son Chase)
2008 Pinot Noir
2007 Sangiovese
2008 Lockshaw Vineyard, Paso Robles Zinfandel - sweet and fruity
2006 Merlot
2006 Syrah
2007 "Four Play" - a Bordeaux blend with 50% Merlot, 40% Cabernet Sauvignon, 7% Cab Franc, 3% Petite Verdot. A surprisingly spicy wine.
Apparently, when 5 pm comes, Mike turns off the regular music and puts on his rock-n-roll. Maybe it was the cozy-ness of the tasting room or maybe it was how casual Mike was interacting with everyone there, but half of our group definitely started bopping to the music.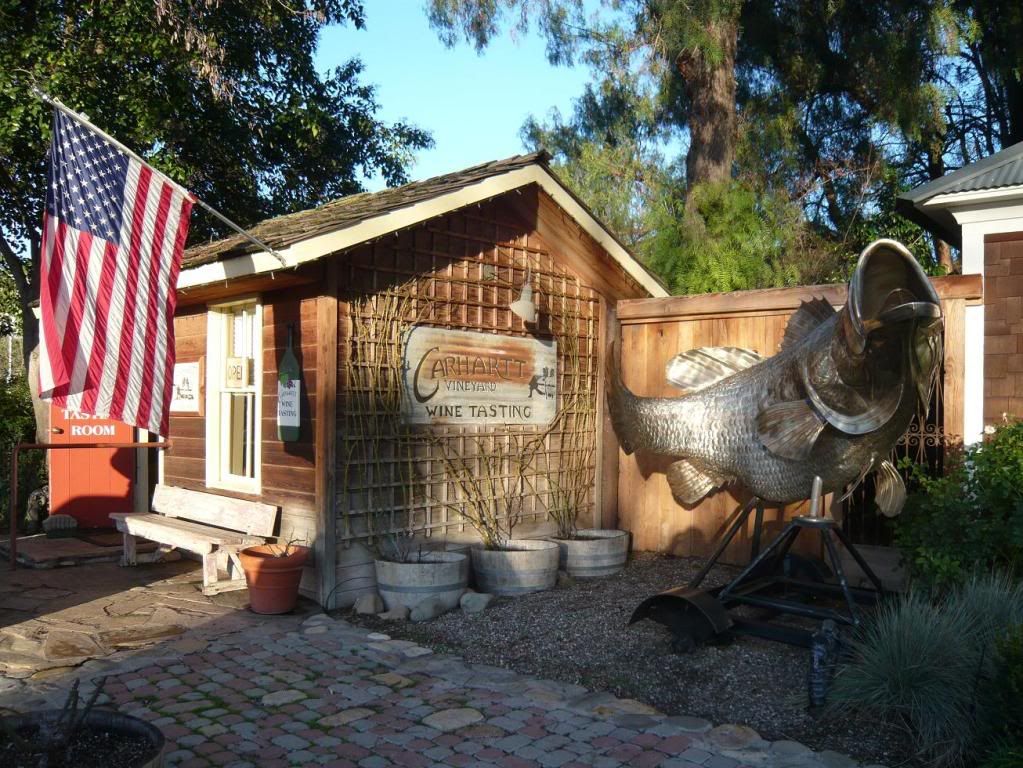 2990A Grand Avenue
Los Olivos, CA 93441


~~~~~~~~~~~~~~~~~~~~~~


To soak up all the wine we tasted, we were off to eat some amazing Brazilian food in ... Oxnard!
This may come as a surprise to you (it certainly did to me), but what's possibly the best and most exciting Brazilian restaurant in this part of the country is Moqueca Restaurant in Oxnard. I've been really excited about this place. It turned out the place was fancier than I had expected, located right next to the water near the Marine landing.
Moqueca, a traditional Brazilian seafood stew, is a rare find in this country.
There are two variants of Moqueca in Brazil: Moqueca Capixaba from Espírito Santo state in the Southeast, and Moqueca Baiana from Bahia state in the Northeast.
Moqueca Restaurant serves capixaba cuisine. Capixaba moqueca is a seafood stew where the seafood has been marinated in lime and garlic, and then cooked in a clay pot with tomatoes, cilantro, onion, olive oil (one of the main differences between this and the Bahian variant is the use of dende oil in Bahia), and
urucum
- a red, prickly Brazilian fruit that really gives the moqueca a rich flavor.
At Moqueca Restaurant, they still use the traditional Brazilian clay pots made with mangrove tree sap, making the meal even more special.
With many of us fallen and backing out of dinner, we needed the chef's help in order to go throught the entire Moqueca offering since each moqueca serves two. The chef, Tatiana, agreed to combine some items in the moqueca for us, so that we'll manage to eat lobster tail, shrimp, mahi mahi, angel shark, and plaintain (banana de terra)! All of those for five of us.
Hungry after wine tasting, we devoured the bread with the delicious eggplant spread and adding the malagueta peppers (or the oil, if you're weaksauce like me).
We started out with some
Bolinha de bacalhau
($12) - cod fish meat, potatoes, and parsley fried cakes with homemade light yogurt cakes.
These crispy 'cod balls' were just perfect to start our meal. Light yet flavorful with a rich and creamy dip. There were six pieces so we let Glutster have the last piece, but we all secretly wanted to eat them ourselves.
Next up is the pinnacle of our meal: Moquecas.
Moqueca de Lagosta Com Camarao ($72) - lobster tail and shrimp moqueca, serves two.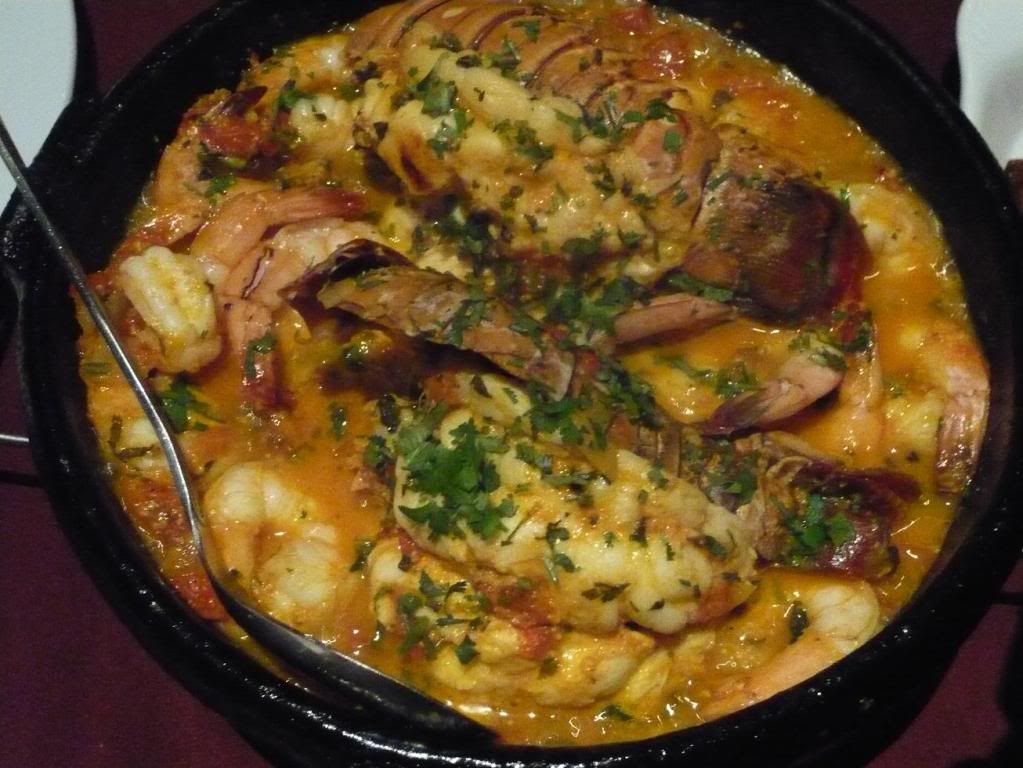 The first bite of the shrimp was pure bliss. That plump, fresh shrimp in the amazingly flavorful tomato-based broth. So much spice and flavors going on in this dish. Moqueca is a must try dish!
The other moqueca was of mahi-mahi fillet and angel shark cubes.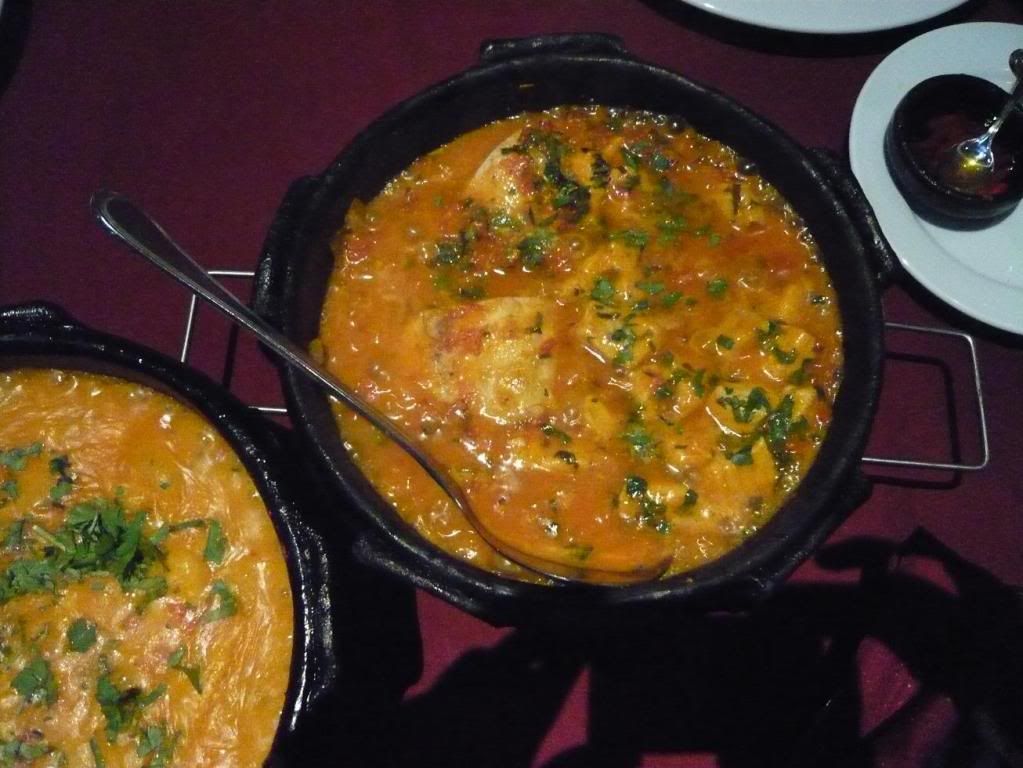 Even though the base of the broth is the same, the different seafood that's been cooking in it really imparts a special flavor to each. The shrimp and lobster one was a tad sweeter. The mahi mahi and shark cubes were moist and tender with the shark cubes being a bit meatier.
Both of these are perfect with the fragrant rice they served.
And to complete all the moqueca offerings, a side of the
banana de terra
(plantains):
We also got the Bobo de Camarao ($32) - serves two. The bobo is originally Bahian but since it has been a popular Brazilian dish, it is now usually found in most Brazilian restaurants.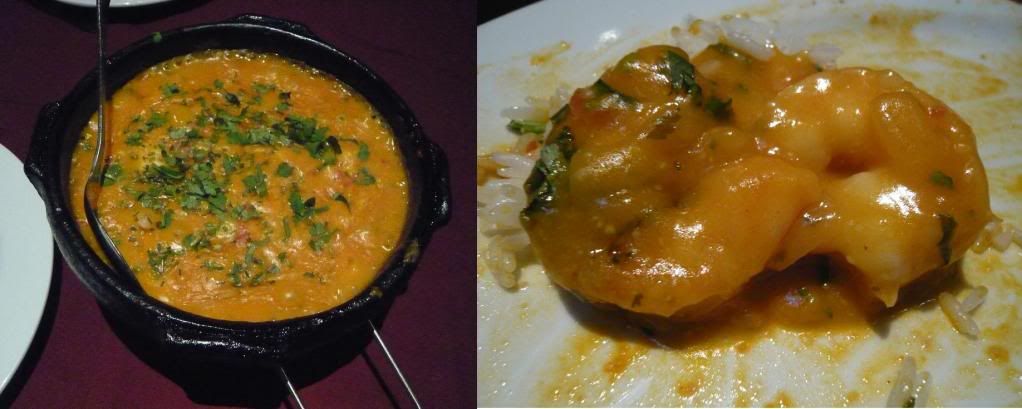 Jumbo shrimps similarly cooked in claypot but the "broth" is wildly different. The bobo is thickened not just with coconut milk but also yucca, giving it that thick, almost slimey consistency. The bobo is also another must-get Brazilian dish. The spices and the creamy consistency makes it the perfect winter night dish.
After our extremely satisfying meal, it's time for desserts. No, we can't go without dessert!
We shared three different Brazilian desserts:
Pudim de caramelo (caramel flan)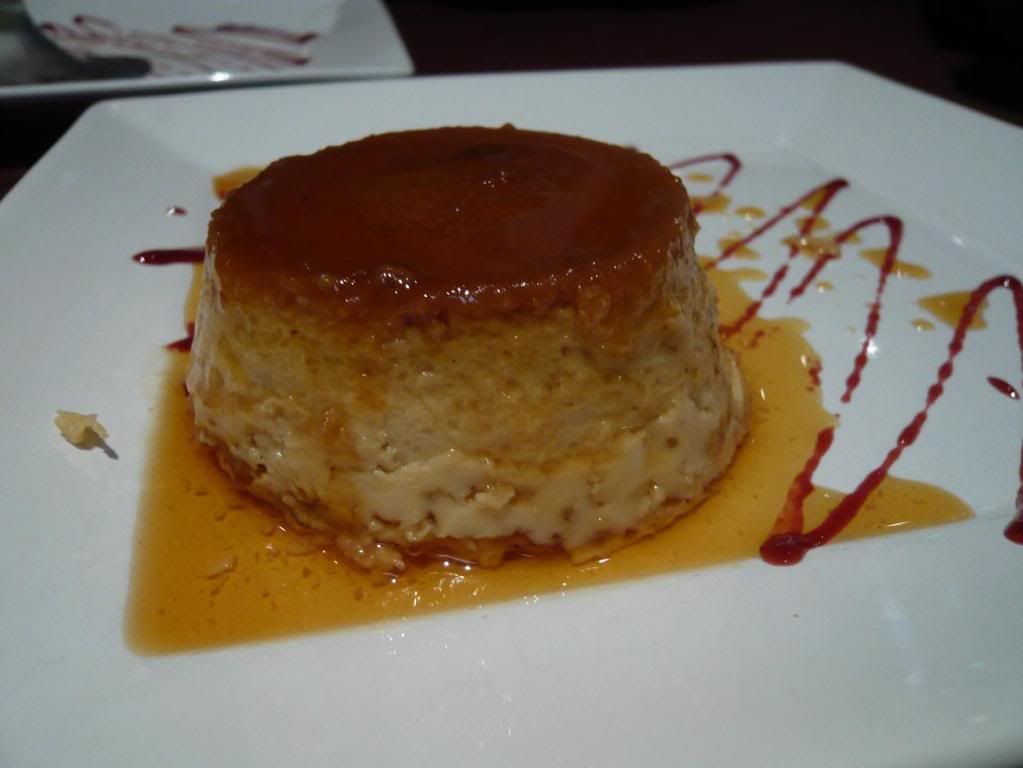 Brazilian flan is particularly dense and rich because of the condensed milk they use. Probably too rich for one person to finish, but works just fine when split between five of us.
Quindim (coconut/egg yolk custard).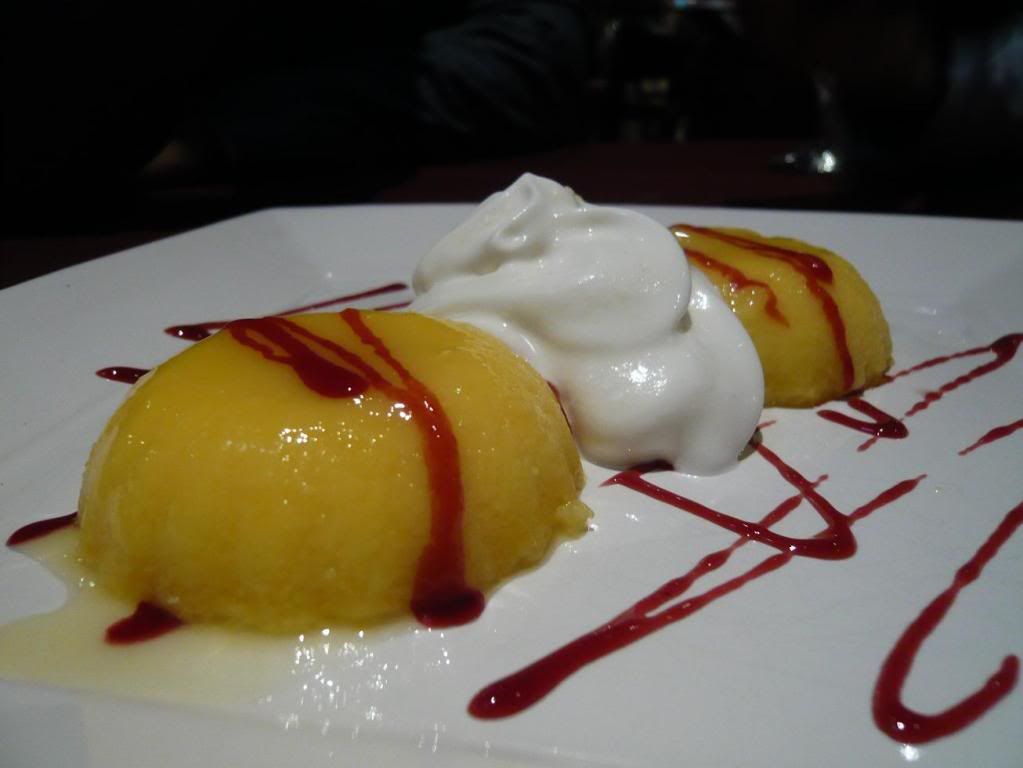 This was my first time having this interesting dessert. The coconut taste really came through, and the "custard" had a firm texture.
Mousse de Maracuja (passionfruit mousse)
This was my favorite dessert of the night. It's light and fluffy with a great passionfruit flavor.
This was one of the best meals I've had recently and the perfect way for us to end our day. It was amazing to find a Brazilian restaurant with this regional specialty of this caliber in Oxnard. It's even worth it to make a separate 1 hour trip to dine here.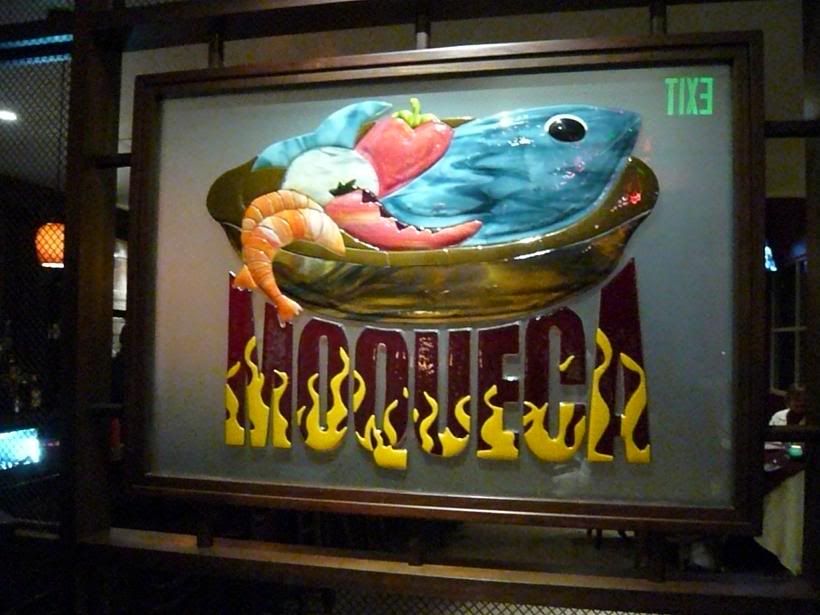 Moqueca Restaurant
3550 Harbor Boulevard
Oxnard, CA 93035
(805) 204-0970
www.moquecarestaurant.com