I passed by Wine Detective while they were still undergoing construction on one of my walks around Pasadena months ago. I didn't know when they would open but then I recently received an invitation from one of the co-owners, Lev, to check the place out.

Since this wine bar is just a few blocks away from Caltech (and my apartment) and thus an easy walk, I was more than happy to try it out for myself. A wine bar opening up within a stone's throw from Caltech can only be a good thing!

Wine Detective employs the Enomatic wine dispenser system, where the customer inserts a smartcard into the machine, chooses the wine they want, presses a button and receives a 1 oz pour.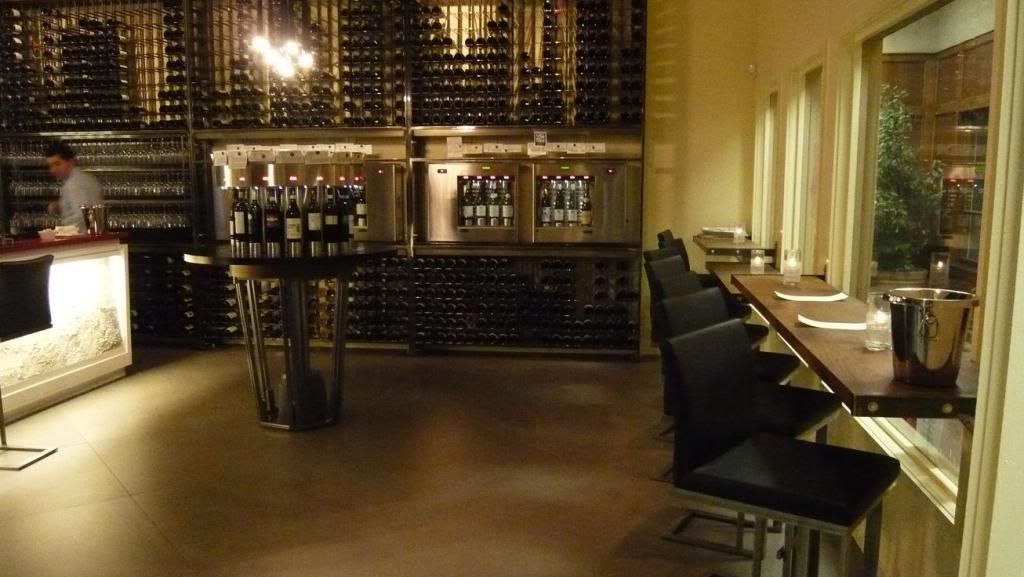 The 1 oz pours (usually priced between $2-4) let you try a lot more wines than you would normally have, but it is cheaper if you opt for a glass. You can also get a bottle here and pay retail price + corkage fee.

The white wines are of course chilled and each pour is precisely controlled.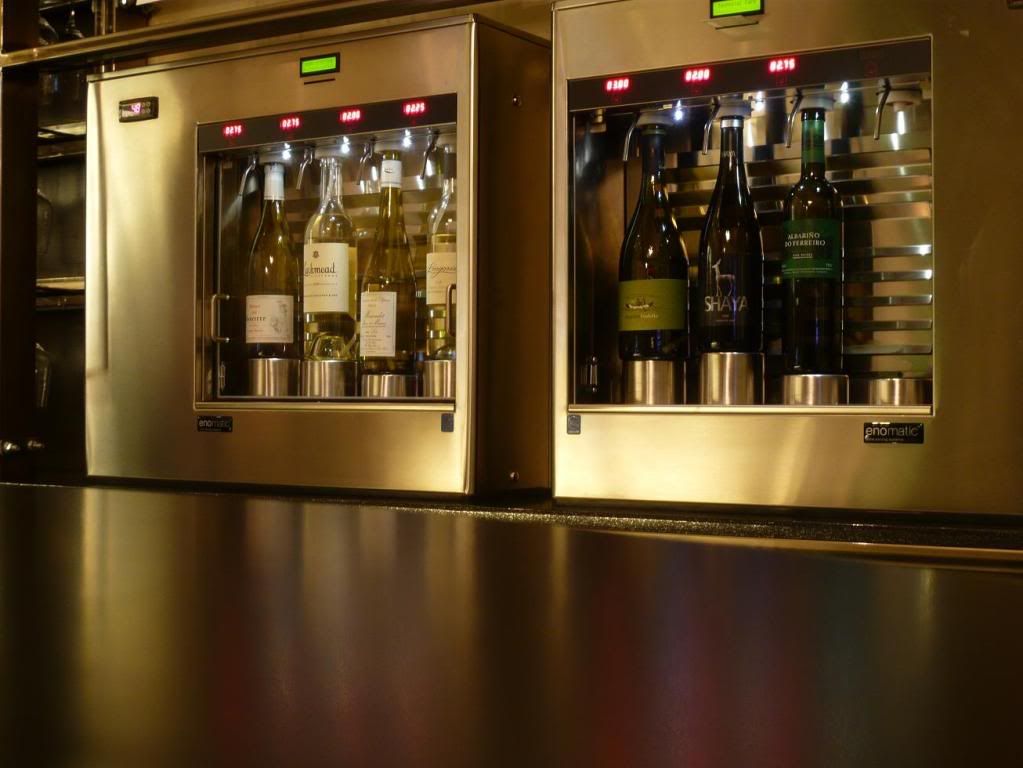 The wines here are all chosen by the four owners - and the four of them have to agree on the wines, which is probably quite an ordeal given people's differing palate. But, hey, I won't complain if I have to taste wine for work :P

Here you can also find some wines that you can't get at retail stores or are harder to find including Turley Howell Mountain Zinfandel and a selection of Charles Smith's wines.

While Wine Detective is not a restaurant, they do serve cheese plates, charcuterie, and some pintxos.

We got a cheese plate to share. A selection of three cheeses run $11.00.

Each cheese was served with the appropriate condiments. we got the verdecapra (a blue cheese from Italy), Roccolo (Cow's Cheese from Italy), and a goat cheese that I can't remember. The blue cheese was pretty amazing, do try it sometime.

Duck Trio (duck pate, duck prosciutto, duck salami) - $17

Photo courtesy of
Mattatouille
A plate worth getting, we loved all three but I loved the pate most of all, it was smooth and rich in flavor. I probably ate more than my share that night. I should also note that the bread that came with this and the cheese plate was quite good and went well with the cheese and charcuterie.
To soak up all that wine,
LA&OC Foodie
and I also decided to get some
pintxo
s to share. A selection of 3 pintxos is also $11 and we chose: Pate (Duck Pate, Cucumber, Piquillo Pepper), Mozzarella
(Buffalo Mozzarella, Oven Roasted Tomatoes, Basil), and Serrano (Serrano Ham, Manchego Cheese, Oven Roasted Tomatoes).
These are pretty basic bites that work well with wines. I thought the Serrano could've used something extra since it was a bit dry for my taste, but again, I loved the pate.
Not only could I walk home after drinking wine, they also offer a
10% discount
for those with Caltech or JPL id!
Also, for happy hour (M-F, 4-7pm) they are offering $5 glass of house wine and 25% off all food items.
Wine Detective
146 South Lake Avenue
Pasadena, CA 91101
(626) 792-9936
www.winedetective.com
Other wine bars in Pasadena:
Noir Food and Wine
Vertical Wine Bistro