When I was invited to a dinner at Sashi in Manhattan Beach (extended thanks to Glutster), the name Makoto Okuwa was somehow familiar to me. Upon hearing that he worked under Iron Chef Morimoto and was also among his crew in the TV show, I finally remembered seeing him in a cook-off against Top Chef contestant Betty Fraser at the LA Mag Food Event back in 2008.

Chef Makoto Okuwa grew up in Nagoya and eventually moved to New York where he worked under Iron Chef Masaharu Morimoto. Now he has his own place in Manhattan Beach: Sashi.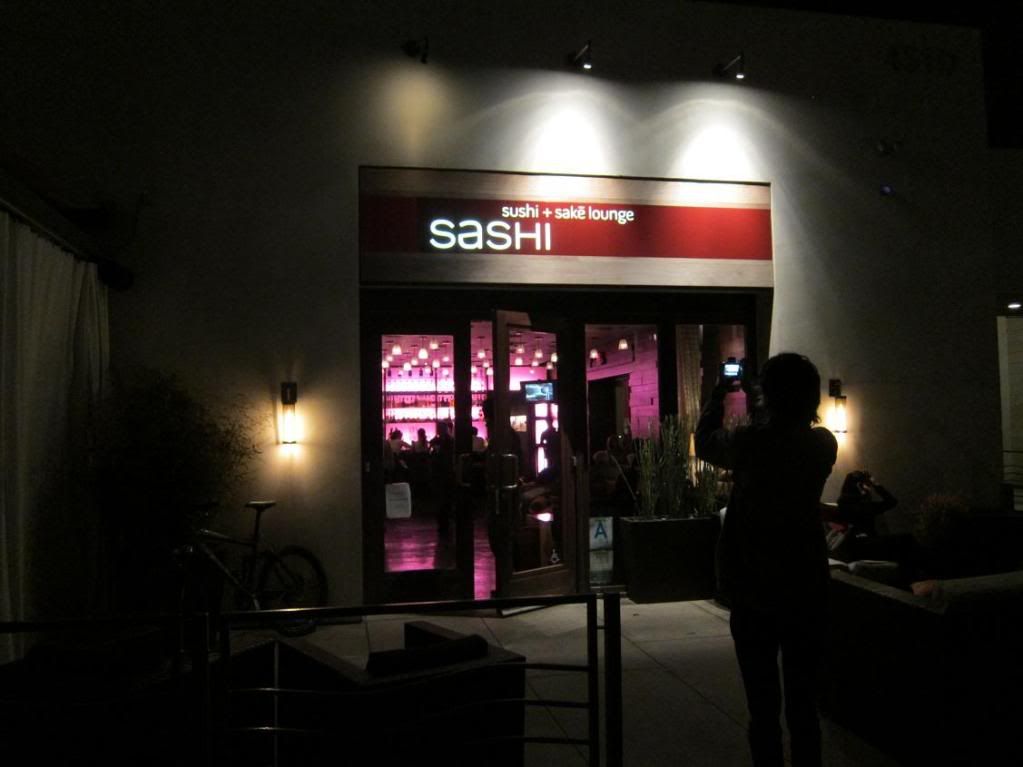 After Mattatouille, Glutster and I lounged on the chilly beach for a while and reminiscing about our Bali trip(the last time we were all at a beach!), a family-style tasting menu at Sashi began. We were joined by Pardon My Crumbs, Kevin Eats, Sushi Lush, and Active Foodie. We had so many dishes I will not be able to go through them all here, so I will just give you about the top 80% of what we ate that night.

We all love to start with some bubbles. Luckily even for this japanese food/sake dinner we can still get our bubblies with the "Flower Sparkling" Hana Hou Hou Shu. A bit sweeter than champagne, but otherwise crisp and easily drinkable. I, for one, appreciated having a sparkling to start.

For the amuse bouche: "New England Clam Chowder"

A playful rendition of the classic clam chowder using a small air bread (a la The Bazaar) infused with the chowder and topped with manila clams and some truffle oil. It's a nice introduction to Chef Makoto Okuwa.

Crispy asparagus (lightly beer battered tempura asparagus served with nori aioli) -$7

A simple dish, but we all liked this. The light batter did not hide the texture and flavor of the fresh asparagus.

Lemon oregano mushroom (char grilled shitake mushroom with oregano pesto) -$8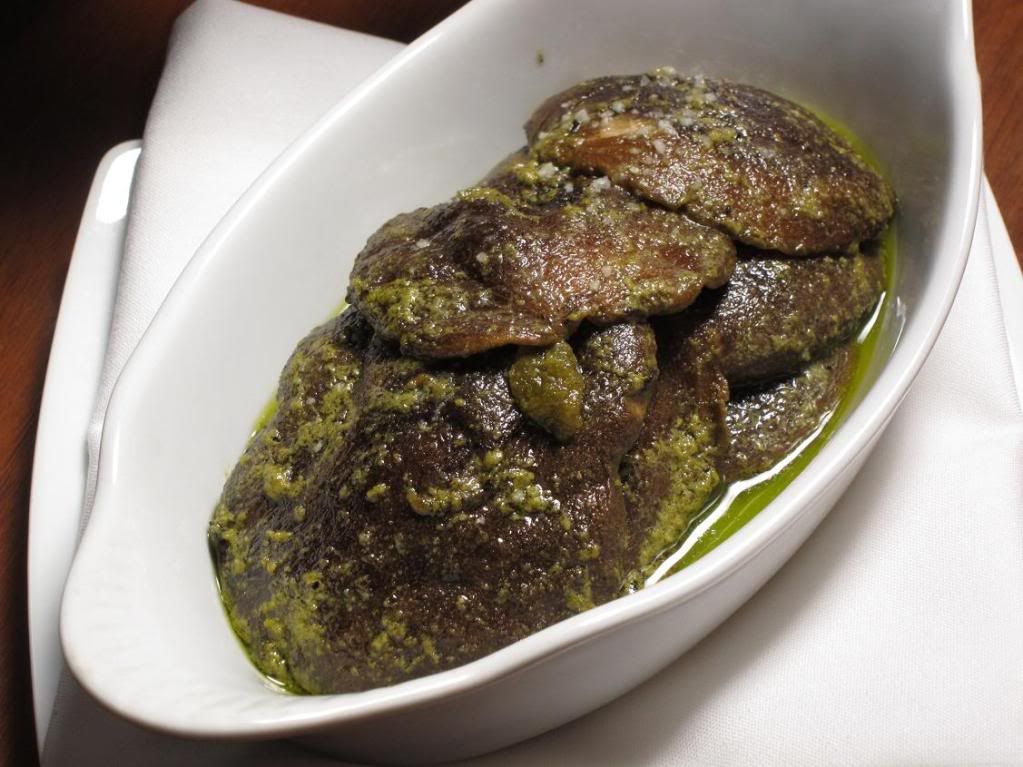 Whether such a strongly flavored dish is a good appetizer before all the oysters and sashimi I'm not sure, but that aside I love both shiitake and pesto and while I never thought of the combination of the two I decided I loved it.

Kumamoto oysters (half dozen) - $18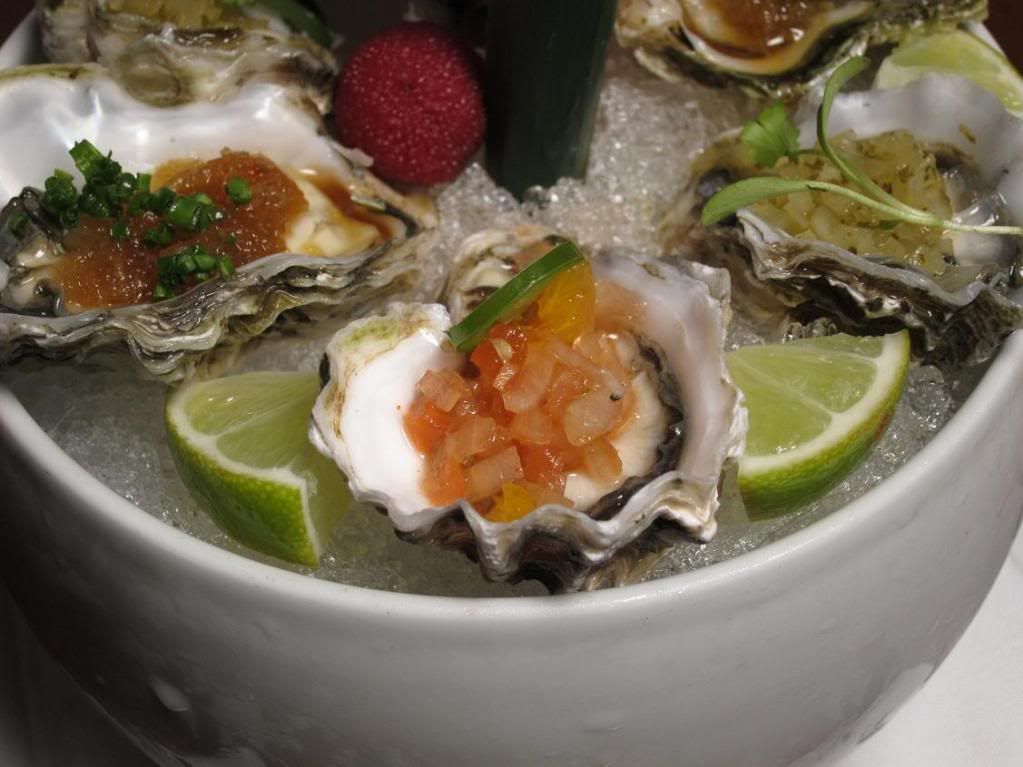 Each of the fresh oyster was dressed differently.

Sashimi wrap (butter lettuce, asian herbs, gochujang sauce, wasabi soy, and miso aioli. Choice of 5 fresh fish) -$26
For us the 5 fish were: salmon, aoyagi, hamachi, tai, and tuna.

They serve very high quality sashimi here at Sashi. The lettuce wrap is supposed to be a nod to the Korean ssam wraps and surprisingly I did like the sashimi with the gojuchang sauce and the lettuce wrap, although I think I still prefer soy sauce and wasabi.

Gindara (alaskan wild black cod marinated in sweet miso) - $5 (per skewer)

This robata take on the famous Nobu dish had a slight smokiness and nicely charred crispy bits around the edges. The rest is sweet and fall-apart tender.

Steam bun (roasted kurobuta pork belly, pickled cucumber, kewpie slaw, scallion) -$13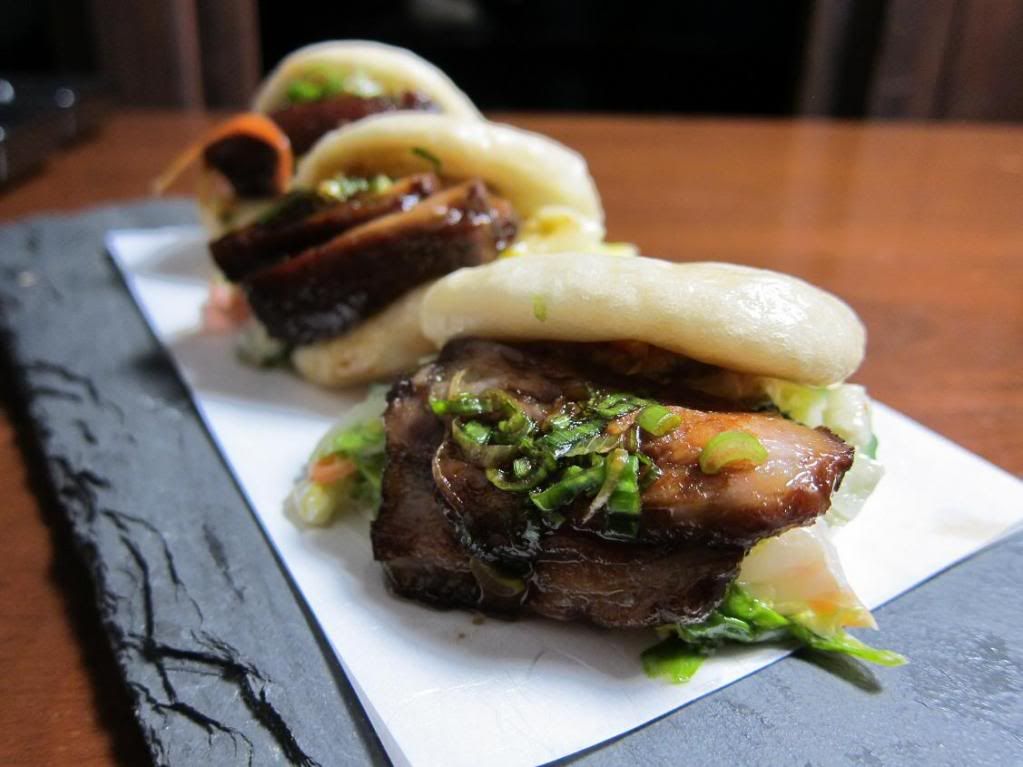 A fatty pork bun that was made even richer by the kewpie mayo (and I'm all about kewpie mayo). A pretty good rendition of pork steam bun that is somewhat of a combination between Momofuku's and Ippudo's. The bun is a bit thick here but overall still good.

Toro tartar with caviar (chopped medium fatty tuna served in soy dashi broth with freshly grated wasabi and paddlefish caviar) -$28

Toro with caviar? How indulgently exciting. The tartar had a good texture but the flavor was dominated mainly by the scallions. Since it was colder than I think it should've been, I couldn't taste the toro as much as I would've liked.

Black tiger prawn tempura (tempura battered black tiger prawns mixed in wasabi aioli sauce served on a baby frisee salad) -$16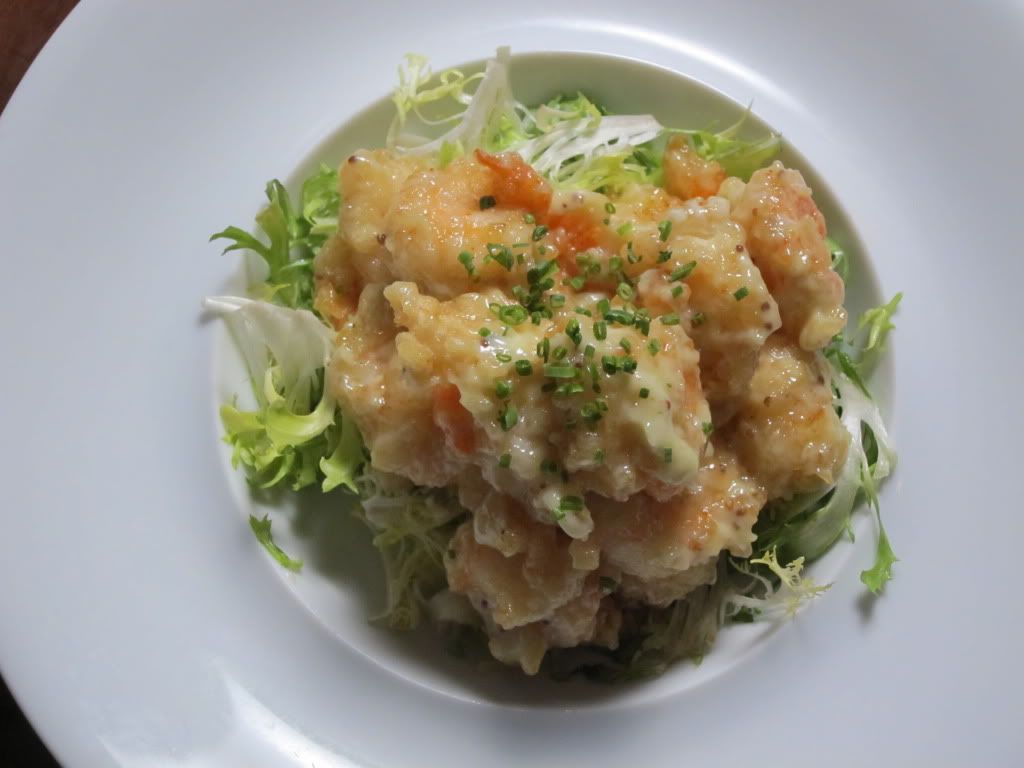 For the Chinese in the group, this is probably reminiscent of the walnut shrimp minus the walnut. In any case, you can't go wrong with crunchy battered fresh shrimp in aioli.


Tai with uni (thinly sliced japanese snapper topped with sweet sea urchin, yuzukosho and shiso salad) -$18

An interesting combination of two from opposite ends of the spectrum: the lean tai with the creamy uni. (though, it left me wanting more uni. I can use a whole uni for myself.)

King crab claws "corn dogs" (lemon thyme, sea salt and served with a lemon grass dipping sauce) -$17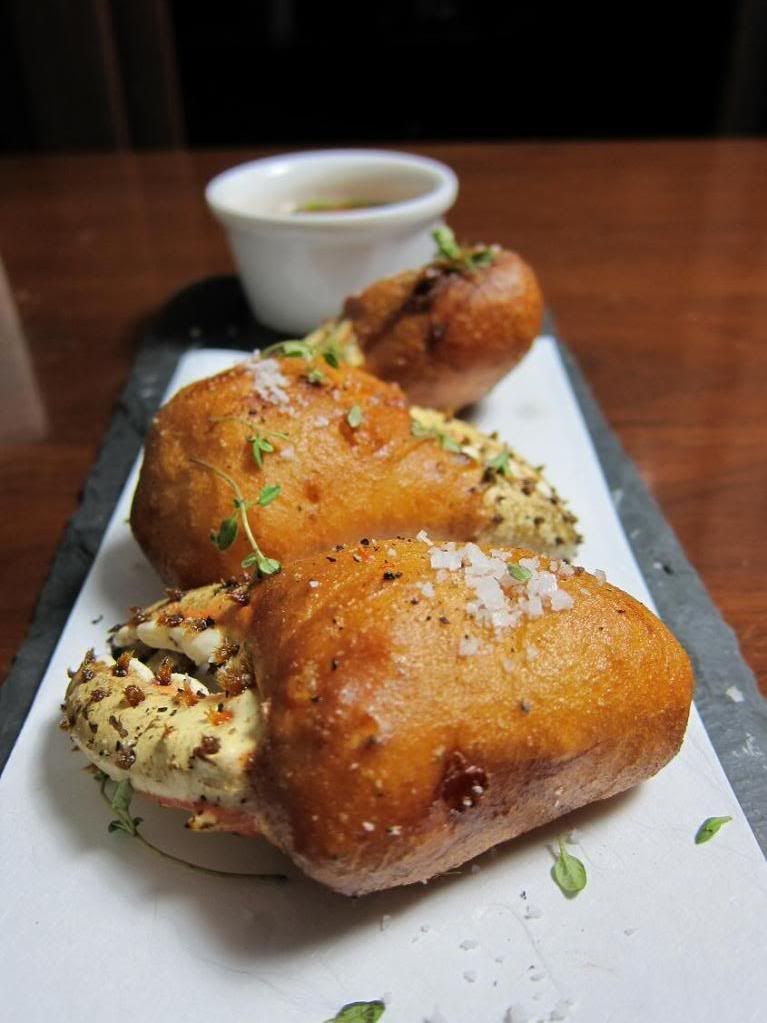 An interesting dish and while I liked both the batter and the crab meat, I still prefer my crab prepared simply roasted or boiled. I do believe frying dries it up a bit.

Wagyu "hot rock" (thinly sliced japanese wagyu beef prepared "table side") -$28


These Japanese wagyu slices come with a certificate of authenticity. These amazing slices of meat are yours to cook yourself tableside. There's no way to screw this up, delicious all the way.

Tuna sashimi pizza (tuna carpaccio, cilantro, cherry tomato, red onion, black olives and jalapeno) -$14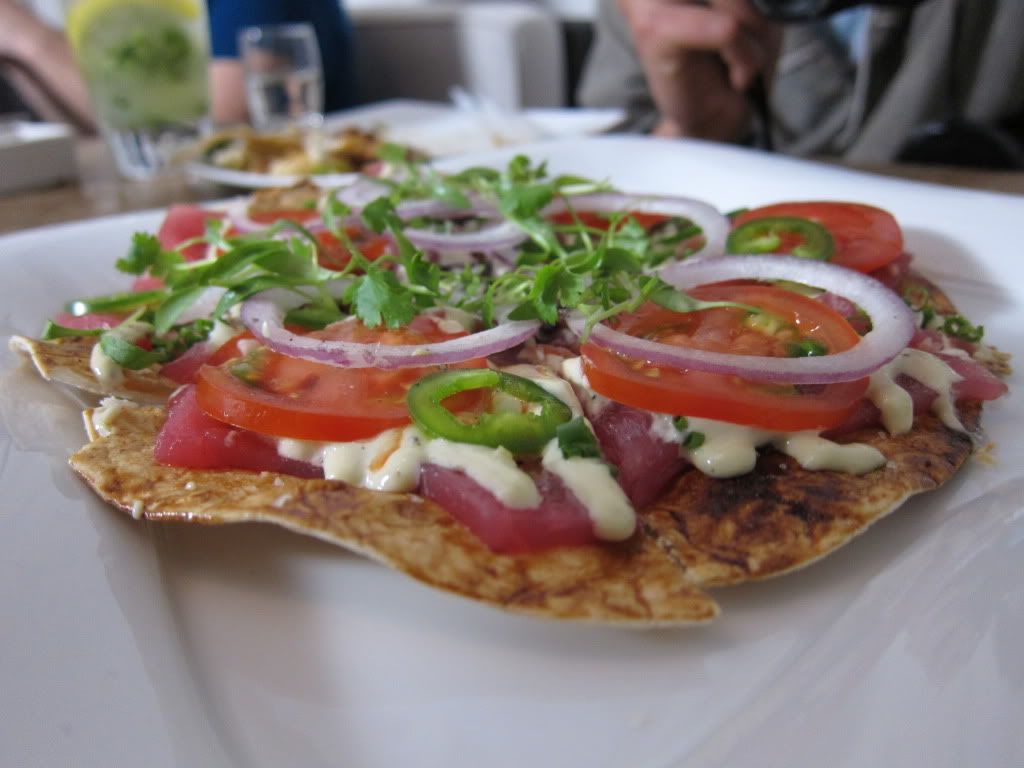 Besides this we also had a chicken teriyaki pizza ($15). Both were fine but I can't get that excited about pizzas at a Japanese restaurant.

Even though we were all stuffed at this point, most of us opted to try out one of Makoto's unique Nagoya-rooted offerings:
20: taiwan ramen noodle (nagoya style spicy noodle soup served with beef and pork, asian chives, and dried red chili) -$11


OK so we were expecting a small tasting-size bowl, not a full-sized portion, but regardless this ramen turned out to be the night's favorite for many. And, yes sir, it was quite spicy.

We finished with desserts by pastry chef Kei Hasegawa (formerly from Nobu).
Bamboo cup (chocolate orange mousse, cinnamon crumble, green tea ice cream, cointreau foam) -$8

Though you can't tell from this photo, the bamboo cup held layers of the mousse, the ice cream, etc. This had a nice light tartness to it.

Japanese frozen yogurt (calpico flavor yogurt and mango passion fruit sorbet served with fresh berries) - $8

This was also light and tart but I found that the tartness overwhelmed the berries too much for my taste.

Toban yaki (bananas, pineapple, and fuji apples baked in a toban pot served with a passion fruit white chocolate sauce and coconut ice cream) -$16

Easily my favorite dessert. These fruits cooked in the creamy passionfruit chocolate sauce were the perfect ending for that chilly night for me.

Perhaps my initial expectation was biased by the fact that I was in Manhattan Beach (though I recently had some pretty good eats there), but I was happily surprised by Chef Makoto Okuwa's food. Most of the dishes are variations of familiar and popular fusion dishes, but they were well executed and he has sourced good quality ingredients. Though it would be great to see more of the chef's own personal flair on the menu as he demonstrated with the amuse bouche, Sashi provides a solid meal. And a bowl of that taiwan ramen noodle would do one well after a cool night on the beach.

Sashi: sushi+sake lounge
451 Manhattan Beach Blvd
Manhattan Beach, CA 90266
(310) 545-0400