Savor the Season this past Sunday marks the end of summer for me and it was a great ending although I stuffed myself silly!
A charity event benefiting Break The Cycle - to end domestic violence - Savor the Season features a great lineup of restaurants+more, silent and live auctions throughout the night!

It was held at the Vibiana cathedral in downtown LA, a charming little place and a nice garden.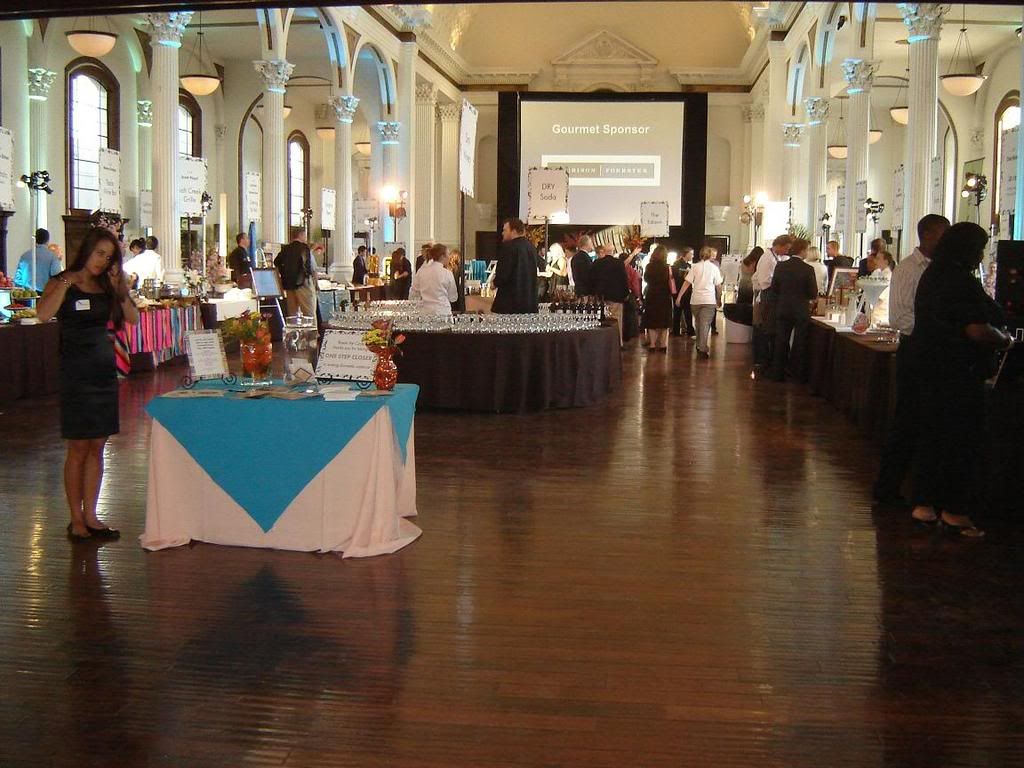 The arches were also beautiful as the night progresses, especially with the lighting that they've set up.

Our only problem with it is that it wasn't air conditioned. Although it didn't get stifling hot, we definitely did not wear the sweaters/jackets we had brought along.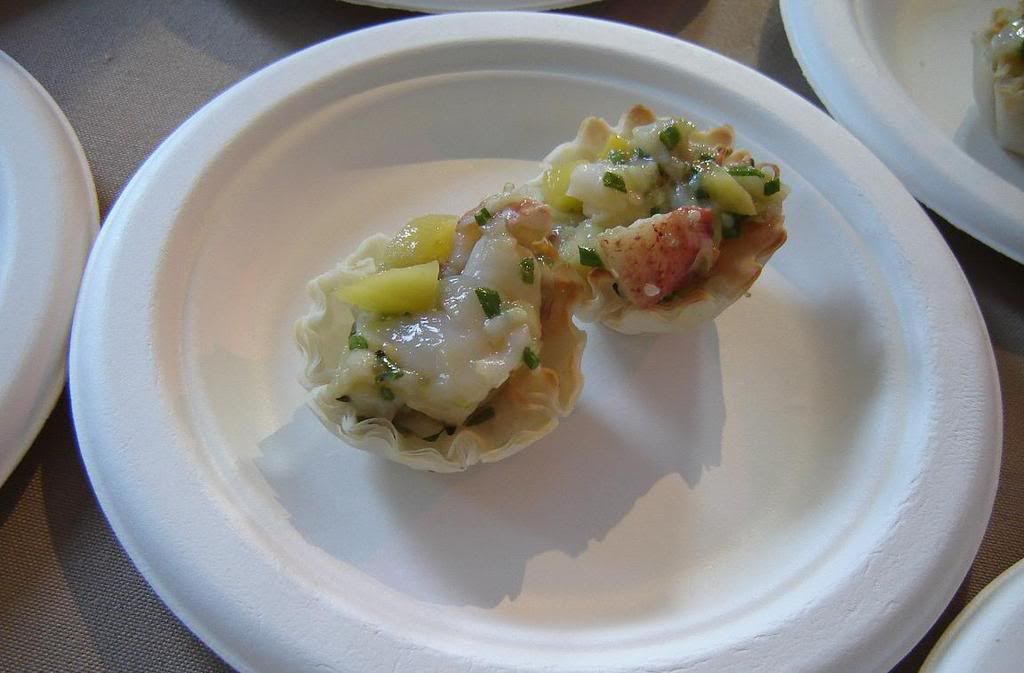 I got there pretty early so I was able to start grabbing food without a long line. First thing I grabbed was the raw lobster salad in Filo cups from Geoffrey's.
I had 2 pounds of lobster the day before but lobster is still good for me anyday!


Cocktails for the night were provided by The Edison. They were offering two ginger beer-based drinks: English Afterthought (below) and Dark and Stormy.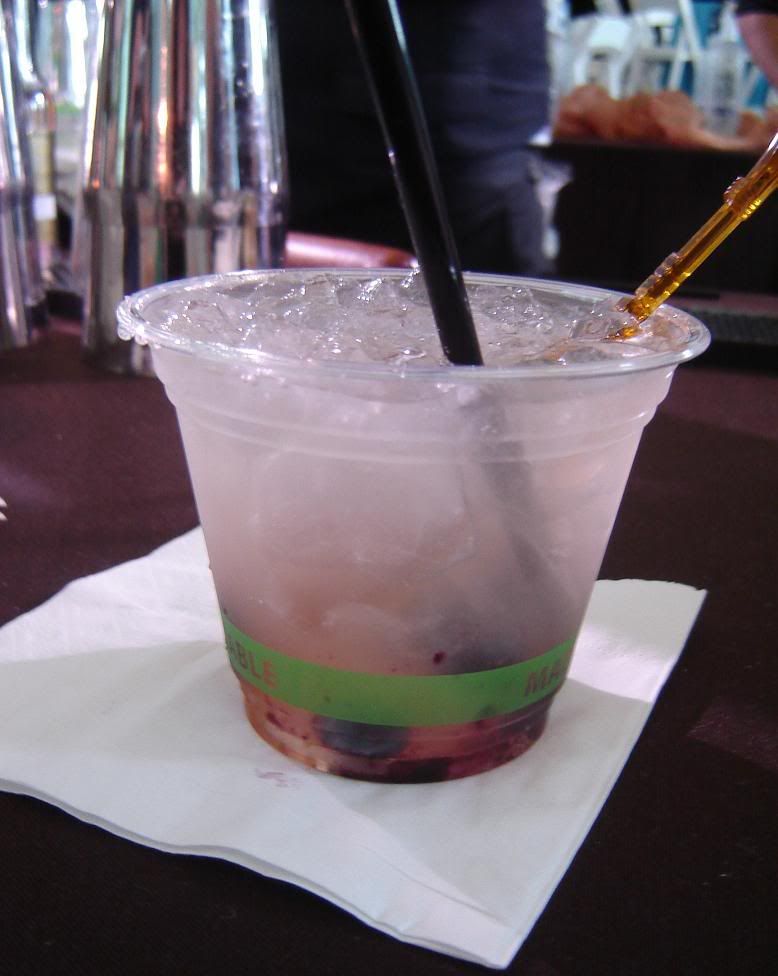 Muddled fresh blueberries+ginger - not too sweet but deliciously refreshing!

They also had this gorgeous green fairy pushing the absinthe cart around (partly to promote their Lucent Dossier on Wednesdays).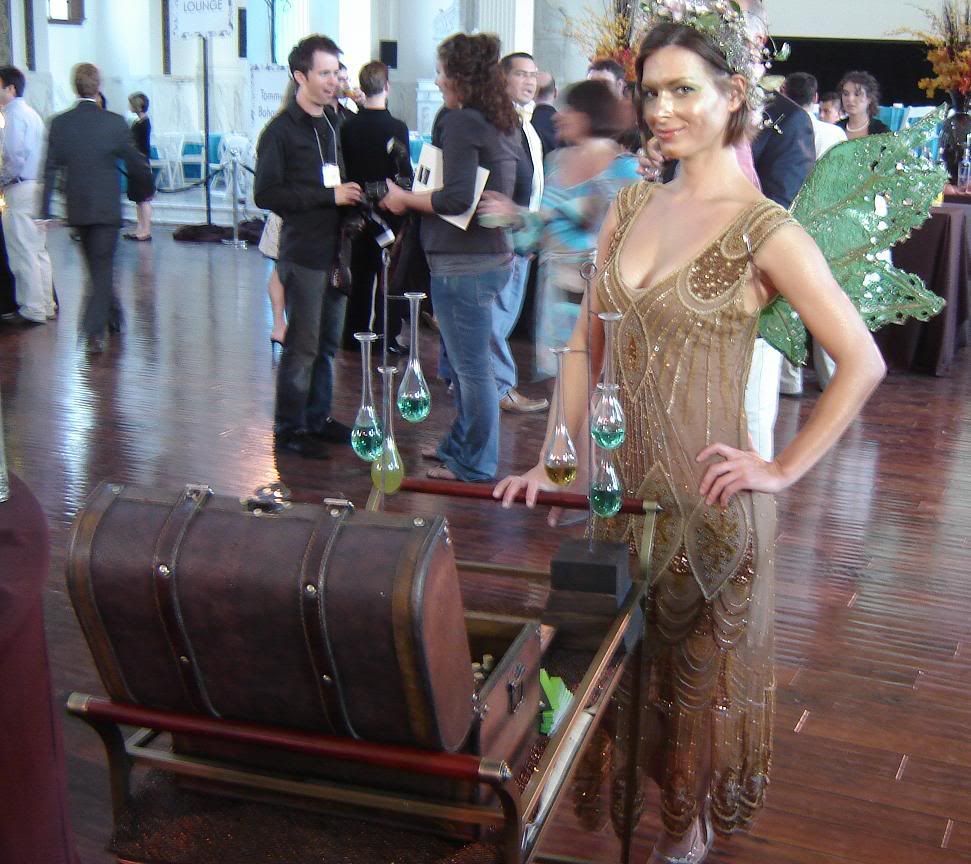 They were giving miniature bottles of absinthe and also some absinthe chocolate made by Madame Chocolat (more on her later).

Both Jer-ne from the Ritz in Marina and Brix@1601 were offering trufflepops and both were offering a spicy flavor as part of it.
Below are the ones from Brix@1601. They had a mango-chili flavor that was nicely spiced.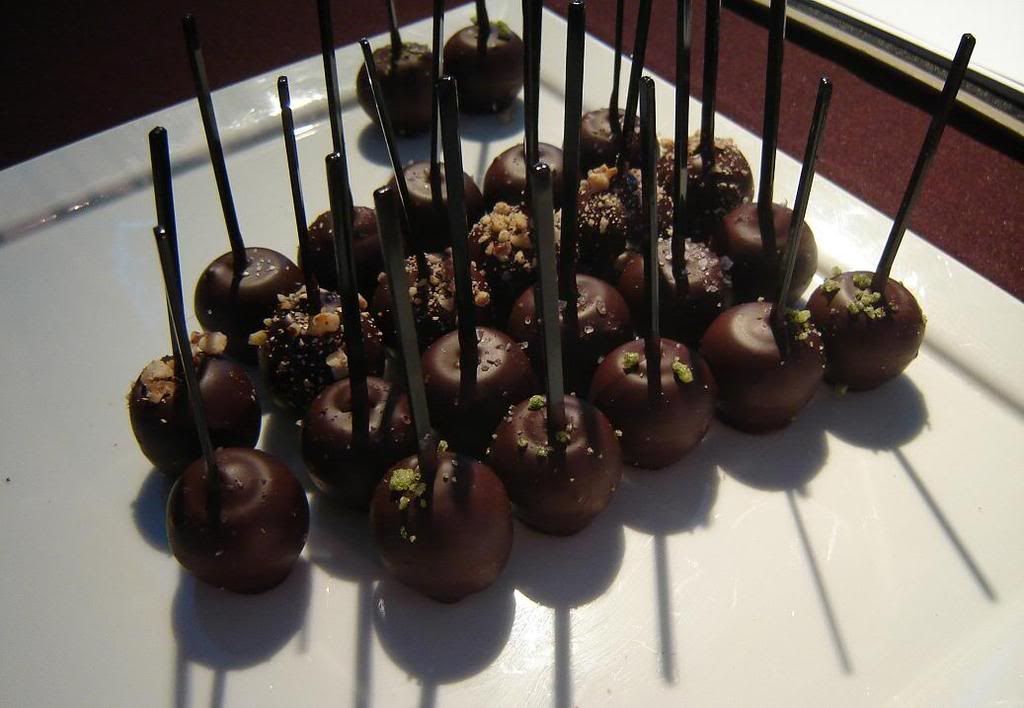 On the other hand Jer-ne had flavors like spicy peanut, caramel fleur de sel, and mayan chocolate that was very cinnamony :)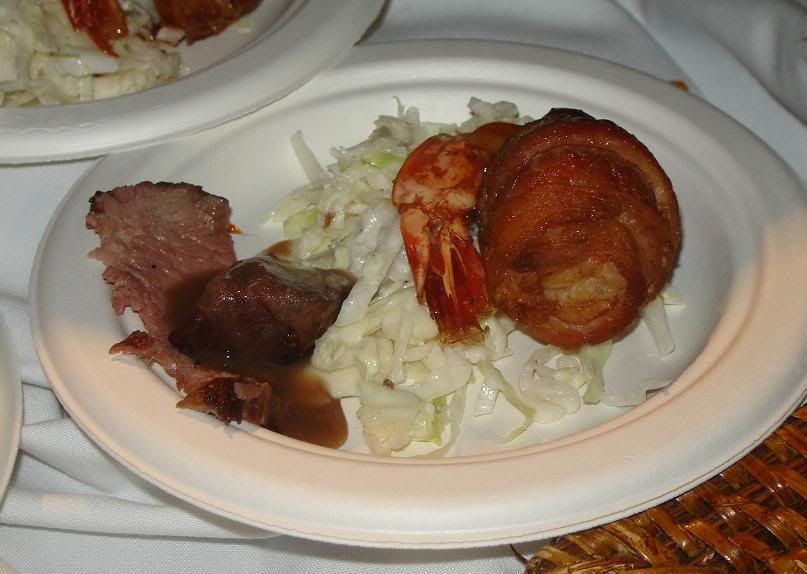 Bacon-wrapped stuffed shrimp and Brant Beef from Salt Creek Grille.
Pretty nice and flavorful although the beef is cold by this point.



The avocado bisque and chicken tandoori croquette from Catering by Field.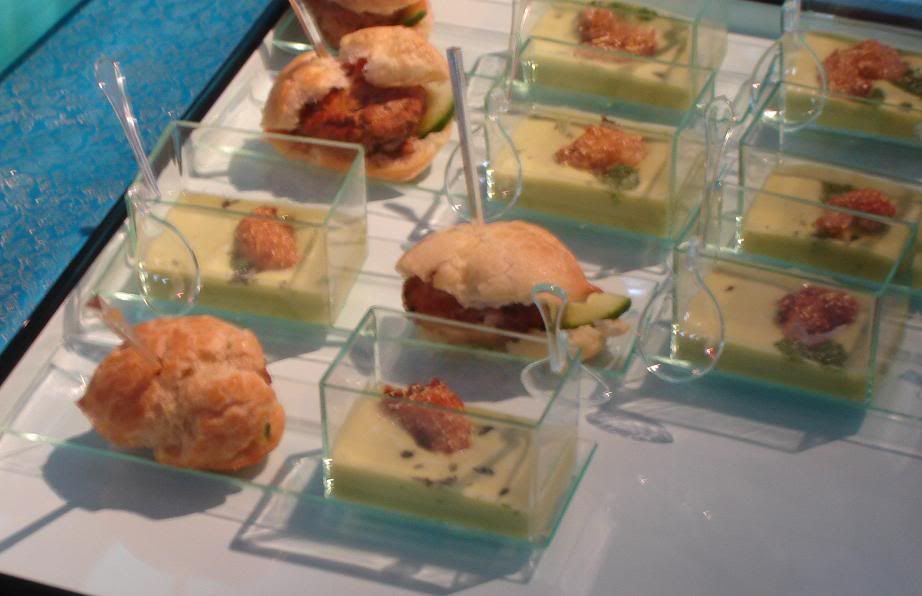 I thought this catering company did a great job - the presentation of these two items were probably the best of the night (besides the green fairy cart!) What cute little plastic dishes.

Other dishes that I really liked were the Fried Mac n' Cheese Fritters from Boneyard Bistro.
Fried cheesy goodness! Mmm . I thought it would be too fatty and overbearing but it was not so. Liked it a lot. It would be a very addicting snack.

They also had lemongrass and lavender soda from Dry Soda, a fairly new soda company. Their sodas are not that sweet so it's really nice and refreshing!

The VIP Section has, of course, even more goodness to offer (I was there with a press pass and so was able to get into the VIP area. Yes!)

Right when you walk in you will see Saltistry's booth, featuring a nice variety of flavored salts and fruits/veggies to dip into it. My favorite is this one, and I'm sure you can imagine why!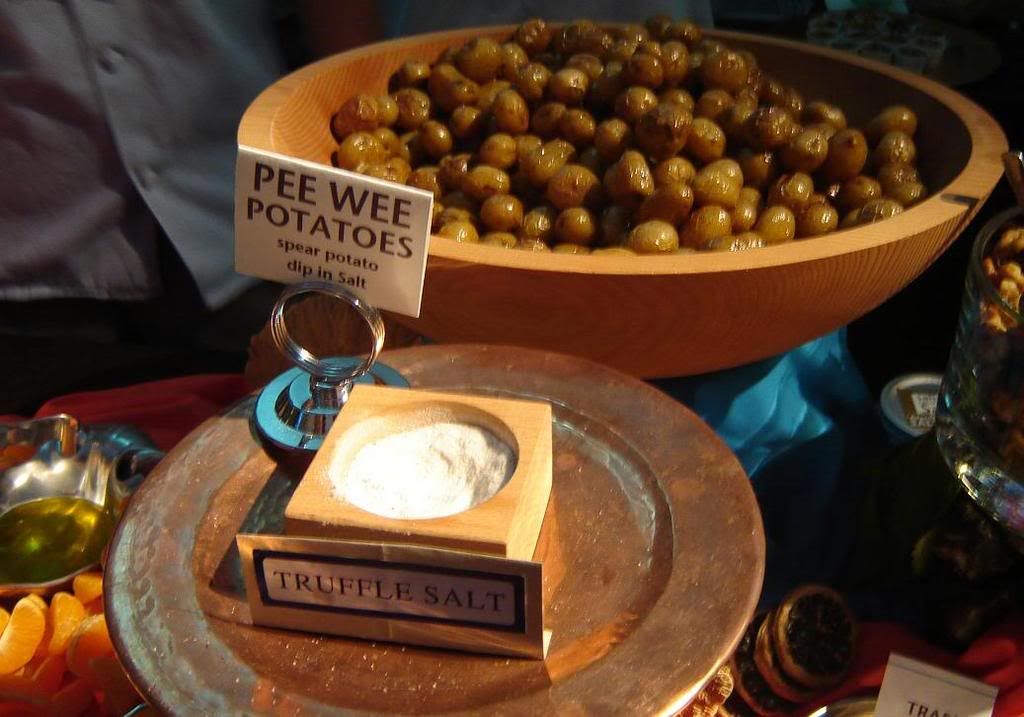 The truffle salt was amazing! The truffle aroma was definitely there and makes me drool so .... They also had other nice and interesting ones like Six Peppers, etc. I'm gonna have to work my way through their offerings ...
Beverly Hills Caviar were serving these 4 types of caviar: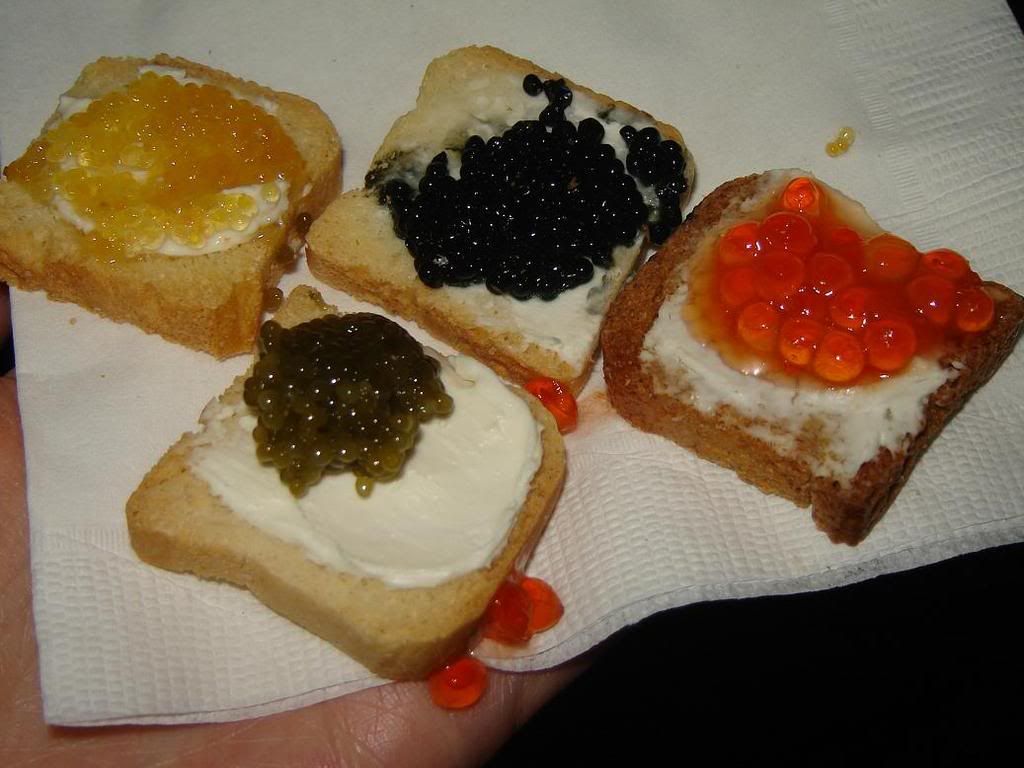 They were very busy replenishing the tray and couldn't tell us what each individual piece was, but in the end I still like the salmon roe the best.

Also in the VIP section was a great cheese booth from Andrew's Cheese Company who were giving out cards about the different cheeses.

Besides champagne, they of course had to have chocolates! Madame Chocolat was giving out dark/milk chocolate malt balls, chocolate covered cornflakes. She had other things that apparently had run out by the time we got there.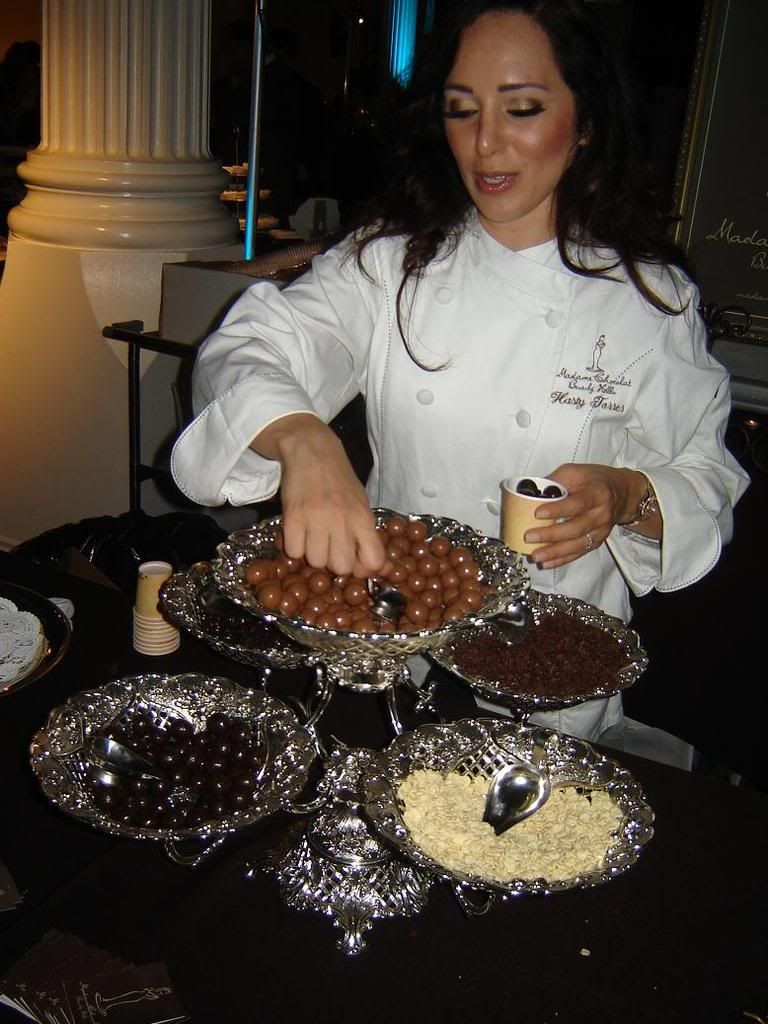 Tutti Gelati had a gelato booth and had a nice combination of dark chocolate, strawberries, and balsamic vinegar.

They also had a very nice limoncello made with venutra lemons from Ventura Limoncello Company. Stronger than other limoncellos I had, but very delicious!

These are all little tastes but *sigh* it really added up and after a while I couldn't remain standing. I had to sit down and rest my stomach for a bit. Other bloggers including LA&OC Foodie, CarolineOnCrack, and EatingLA were there and I think I can safely say we all stuffed ourselves!

Luckily for us we managed to go into the VIP section where they had tables and chairs - the main dining room did not which was rather a bummer for people in high heels like I was! But it was such a great event, and benefiting a great cause too! I would definitely keep this event in mind for next year also!
I tried bidding on the silent auction, although I didn't win anything. We all had fun and great food and drinks.