So buzz Korea is a website launched by the Korea Tourism Organization dedicated to promote all things Korea, including through various contests (for example, you can vote for your favorite Touch Korea Tour video and win Samsung products). Now, they're also holding a contest for a blogpost or video where you show your passion for Korea and can win a trip to Seoul! That's where I come in! My passion is of course, all about Korean food! I love Korean food. I mean, I even got my mom to start a Korean restaurant in Indonesia! Even the Korean dramas I watch tend to all be about food.

Los Angeles Koreatown is a great place to get a huge diversity of Korean food, and I've tried plenty there (but of course, I still want the real thing in Seoul!)
It's not just all about Korean BBQ and bibimbaps (although we all love those).

In LA's Ktown you can find things like black goat stew at Mirak, the gaminess masked with the fragrance of perilla leaves.

Like most students, my first exposures to Korean food was the 24-hour joints like Nak Won, filling the stomachs of hungry students and drunk party-goers alike with jap chae, kimchi bokkumbap, and more.
Then there's my favorite comfort food,
soon tofu
. First there was the
24-hour BCD Tofu
but then I learned about the beauties of both
Beverly Soon Tofu
and
So Kong Dong
.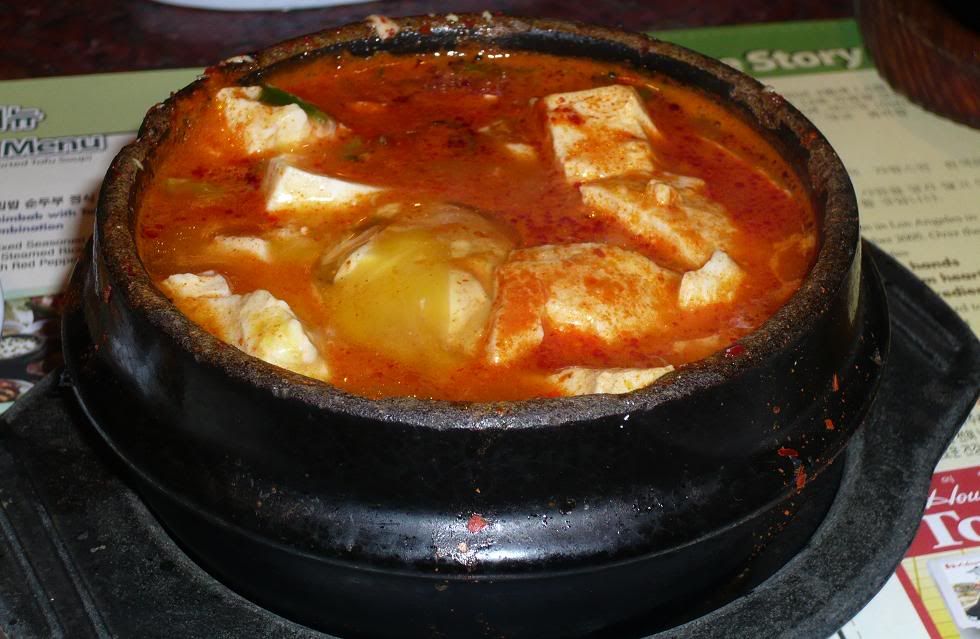 And then with food blogging, my world expanded!
There's the
gam ja tang
(pork neck stew) from
Ham Ji Park
, one of my first introductions to Korean stews and I fell in love with it, along with their spicy squid noodles.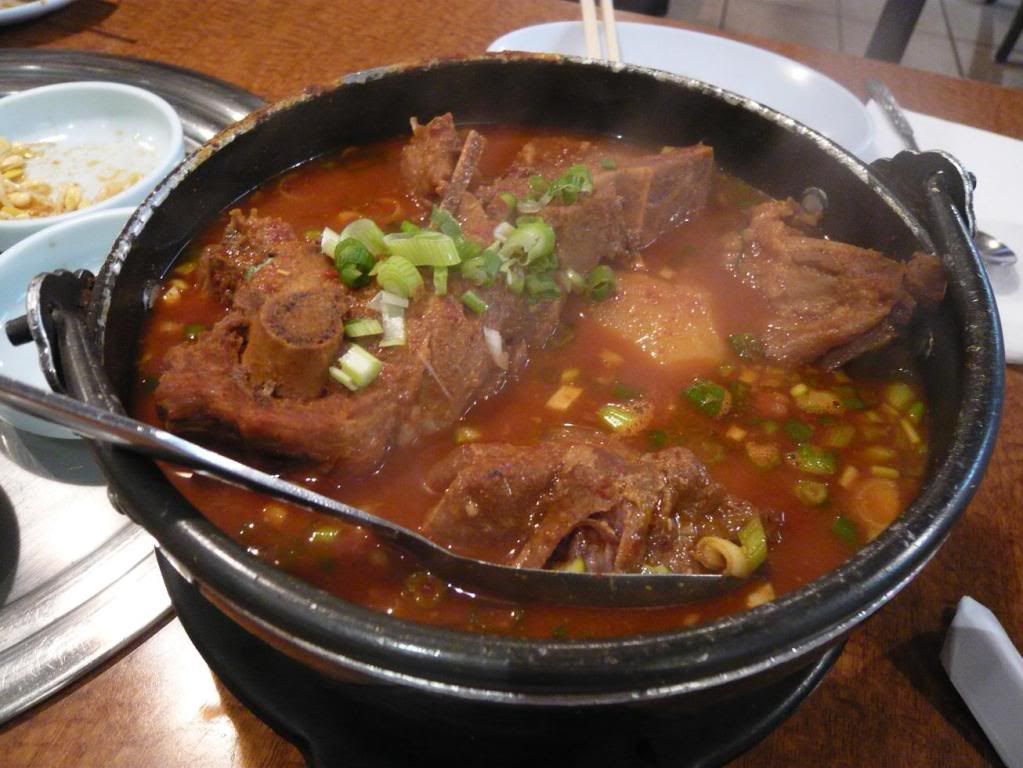 Ondal 2's kkot geh tang (spicy crab soup) is another unique offering in K-town ..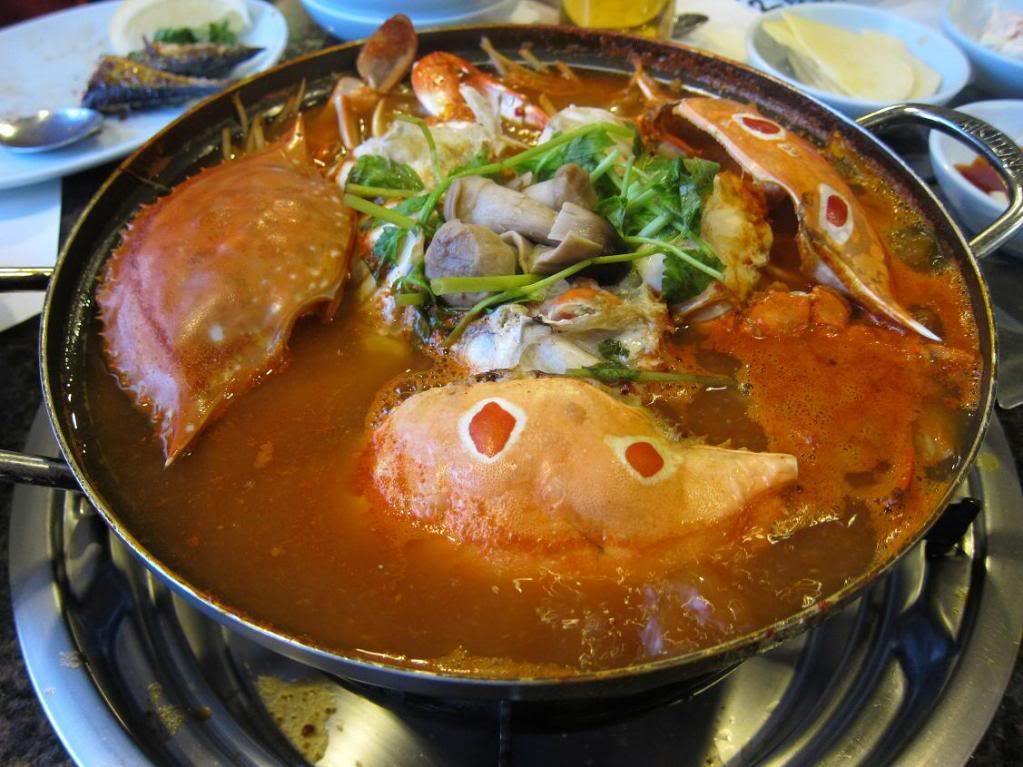 ... although I usually prefer their spicy rib stew! These stews ($45) are enough to feed three people, and they also make kimchi fried rice with the remaining broth!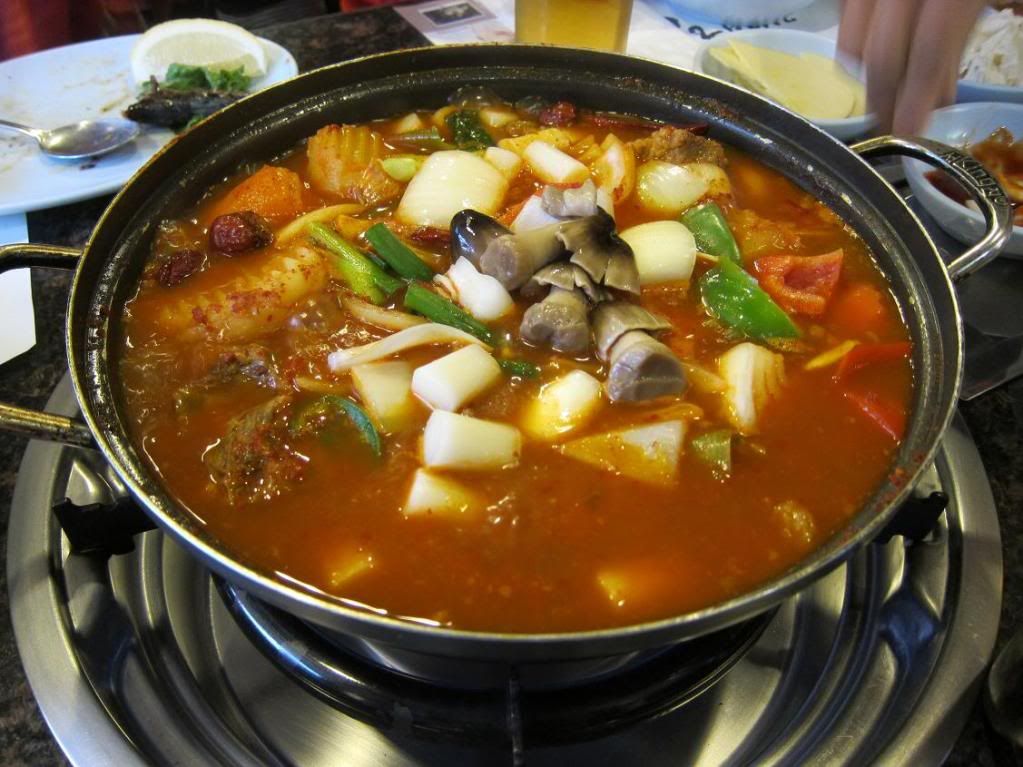 One time I even tried the poisonous blowfish at
Dae Bok
, where you can order it either as steamed fish with bean sprouts or as a stew (
mehwoontang)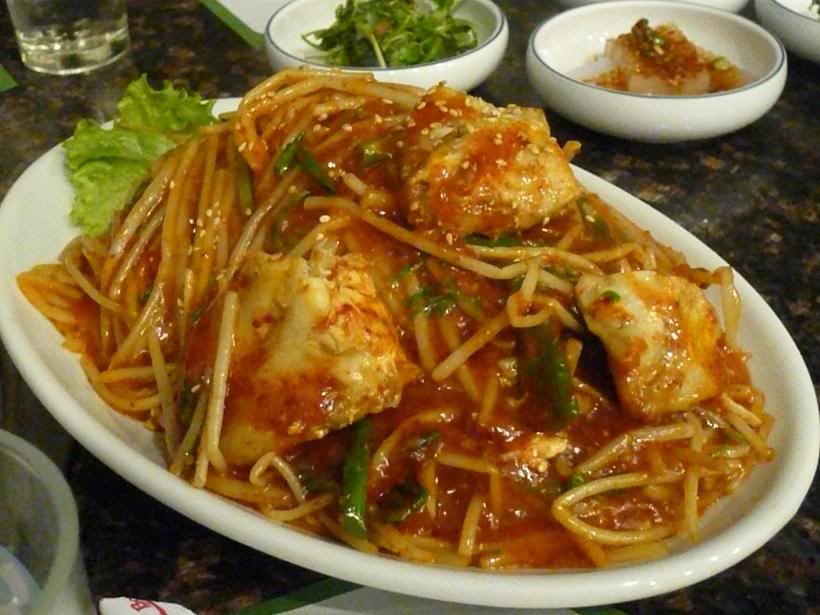 A new 24-hour favorite is Myung Dong Kyoja, where the dumplings (manduguk) are perfect after a late night of drinking.
Call ahead for a special order of clay baked duck at Da Rae Oak. This aromatic and tender duck is stuffed with rice, various nuts, dates, etc.
This is just a sampling of what's available in Korea town, and there are so much more from Han Bat Sullungtang to intestine stew at Dwit Gol Mok. Much more to explore for all of us, and one day I'll try even more of the real thing in Korea!